Biography
Jesse Perse Harmon was born 11 August 1795 in Rupert, Bennington County, Vermont, United States to Martin Harmon (1758-1845) and Tryphena Poole (1758-1810) and died 24 December 1877 Holden, Millard County, Utah, United States of unspecified causes. He married Anna Barnes (1798-1847) 29 April 1819 in Conneaut, Erie County, Pennsylvania, United States. He married Margaret Allen (1798-) 6 February 1846 in Nauvoo, Hancock County, Illinois. He married Nancy Calkins (1800-1883) 21 June 1849 in Salt Lake City, Salt Lake County, Utah. He married Lucy Calkins (1846-1895) 26 December 1870 in Endowment House, Salt Lake County, Utah.
Veteran War of 1812
At the tender age of eighteen, Jesse enlisted in the United States Army to help defend the nation during the War of 1812. Served as Pvt under Capt D Sanford's Co 11 US Infantry and John Bliss' Co 7 US Infantry. Enlisted 6/20/1814; discharged 5/23/1815.
He would have numerous close calls but survived the conflict. The British sought to use Indians as allies in fighting the Americans. On one occasion, Jesse was slightly wounded by an Indian tomahawk. Another happenstance occurred as Jesse and several companions sought refuge in a log cabin. A cannonball exploded through the walls, dismembering several and killing everyone therein except Jesse. At the Battle of LaColle's Mill, Jesse and his brother Martin came under fire from the enemy. Martin was mortally wounded and died in Jesse's arms. He was buried with full military honors. Jesse returned to New York but the country was moving westward. He soon removed to Erie County, Pennsylvania.
Religious Experience
Jesse married Anna Barnes on April 29, 1819 in Conneaut Township, Erie County, Pennsylvania. The couple had four children, all born in Erie County. While residing in Erie County, the family was visited by Orson Hyde (1805-1878) while on one of his many missions organized Church of Christ (Mormon). He taught the family about the Gospel. Anna, who was deeply spiritual, was the first to accept the new doctrines, being baptized May 29, 1833.
Zions Camp Participant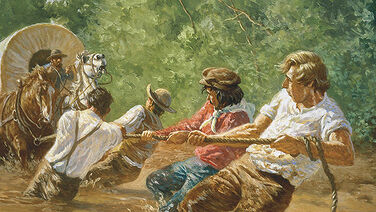 One of the most interesting episodes in the early history of LDS Church was the march of Zion's Camp (1834). The members of the Church in Missouri were being persecuted, and the Prophet Joseph made it a matter of prayer and received a revelation on February 24, 1834. The Lord instructed the Prophet to assemble at least one hundred young and middle-aged men and to go to the land of Zion, or Missouri. (See D&C 130:19–34.)
Zion's Camp, a group of approximately one hundred and fifty men, gathered at Kirtland, Ohio, in the spring of 1834 and marched to Jackson County, Missouri. By the time they reached Missouri, the camp had increased to approximately two hundred men.
In 1835, Jesse was ordained a Seventy and called to serve in the First Quorum of the Seventy. Shortly after the return to Kirtland the Great Apostasy began to afflict Kirtland and great abuse befell those who sided with the Prophet Joseph Smith. Jesse remained stalwart during this time of trial and signed the Constitution of the Kirtland Camp when the faithful members or Kirtland and more especially the Seventies evacuated that city and moved to Zion.
Missouri & Nauvoo Persecutions
Missouri also proved to be a place of trial and persecution and Jesse suffered the ignominy of the expulsion, eventually settling in Nauvoo, Illinois. There he was appointed Orderly Sergeant in the Nauvoo Police Department and later as an officiator at the Nauvoo Temple. Jesse also joined the Nauvoo Legion in which he rose to the rank of Colonel. In July of 1843 Elder Harmon was involved in the daring Maid of Iowa mission in support of Joseph Smith when an armed company of men sought to kidnap him.
As a policeman sworn to uphold the law and keep the peace, Jesse was called upon by the City Council of Nauvoo to destroy the printing press of the infamous Nauvoo Expositor, a scurrilous rag attempting to bring down the Church and disturb the peace of Nauvoo. On June 17, 1844 Jesse along with the Prophet Joseph Smith (1805-1844), his brother Hyrum Smith (1800-1844), Orrin Porter Rockwell and others were arrested by Hancock County authorities from Carthage, Illinois concerning this matter. It was while thus incarcerated that Joseph and Hyrum were martyred. A year later, officials finally got around to trying Jesse and the others. After a protracted trial all were found innocent.
Westward Trek & Tragedy
Though allowed to return to his family in Nauvoo, the persecution of the saints continued. And again, the saints were obliged to leave their homes and take to the trail as refugees. Jesse and his family joined the trek west. His beloved wife Anna succumbed to the hardships of the trail and died January 16, 1847. The entire family was sick and Jesse's son Ansil was the only one able to attend Anna's funeral. Their daughter Sophronia died ten days later. Jesse gathered the remainder of his family about him and as the spring and summer gave relief to the frigid winds of winter, made his way westward. He would become the honored patriarch of a pioneer family and died in Holden, Utah in 1877.
Marriage and Family
Jesse married Anna Barnes on April 29, 1819 in Conneaut Township, Erie County, Pennsylvania. The couple had four children, all born in Erie County.
Children
Siblings
#g1: Offspring of Martin Harmon (1758-1845) and Tryphena Poole (1758-1810)
Name
Birth
Death
Joined with

Sarah Harmon (1786-1859)

,
,

Diantha Harmon (1789-1838)

,
,

Orilla Harmon (1791-1858)

,
,

Orrel Harmon (1791-)

,
,

Martin Norton Harmon (1793-1814)

,
,
Jesse Perse Harmon (1795-1877)
11 August 1795, Rupert, Bennington County, Vermont, United States
24 December 1877,

Holden

, Millard County, Utah, United States
Anna Barnes (1798-1847)

+

Margaret Allen (1798-)

+

Nancy Calkins (1800-1883)

+

Lucy Calkins (1846-1895)

Alpheus Harmon (1798-1842)

,
,

Elizabeth Lucina Harmon (1800-1845)

,
,

Oliver Harmon (1801-1801)

,
,

Nehemiah Harmon (1802-1803)

,
,
Residences
See Also
References
Footnotes (including sources)