We're Getting Mutants in the MCU - The Loop
Play Sound
Jessie Tivey was born 7 May 1910 in St Pancras, London, England, United Kingdom to Charles Ascot Tivey (1873-1954) and Louisa Blunt (1878-1971) and died 30 January 1977 Southport Hospital, Southport, Queensland, Australia of complications of a heart attack suffered while gardening. She married Herbert George Smith (1909-1992) 23 January 1932 in Walton-on-Thames, Surrey, England, United Kingdom.
Children
Early life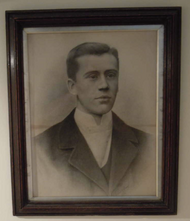 Jessie Tivey was born on 7 May 1910 in St Pancras, London, the fifth child of artist Charles Ascot Tivey and his wife Louisa Blunt. At the time the family were living in a two room apartment in Seymour Buildings, Euston Road.[1] In about 1912, they moved to 49 Russell Road, Walton-on-Thames, Surrey, which afforded the children a more suburban upbringing on the banks of the River Thames, which was about 250 metres from the family home. This move also allowed Jessie's paternal grandmother Lucretia Tivey, who had retired to Nottinghamshire, to join the family. Charles, who was her youngest son and particularly close to her, had been quite assertive that she should come and live with him to be well cared for in her final years. Lucretia, who had a varied career as a teacher at Queen Mary's Grammar and later an outfitter for British Raj gala balls, was a highly respected matriarch and likely had a strong influence on young Jessie.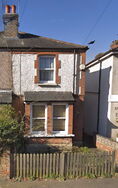 However, the family did deal with a series of tribulations during this time. Jessie's eldest brother Victor was severely disabled and was sent away, never discussed by the family. During the First World War, Jessie's eldest sister May was injured when an air raid siren went off while she was receiving surgery, resulting in the surgeon slipping and leaving her with a severe facial deformity. When Jessie was about eleven, she injured her finger in a mangler while helping out with the laundry.
Early adulthood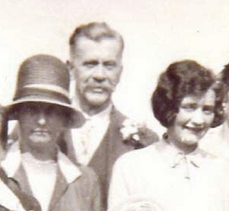 In the late 1920s, Jessie moved into a large manor in Weybridge to work as a live-in seamstress and dressmaker for the lady of the house. In the spring of 1931, Jessie met Leslie Wildish, a gown specialist and ladies' outfitter who supplied materials for dressmaking in Guildford High Street. A brief liaison occurred between the youthful, gregarious, olive-complexioned Jessie and the charming, fit, former army officer Leslie. However, the relationship was difficult to sustain: Leslie was almost fifty and already married.
When Jessie realised she was pregnant, her parents gave her an ultimatum: get married before giving birth, or the baby had to be given up for adoption. They took such a hardline approach as they had already agreed to raise Tony, the illegitimate son of Jessie's sister Rene, whose father was similarly an army captain unable to marry Rene. With Leslie unable to leave his wife and established life, Jessie was becoming increasingly concerned as her pregnancy went on. She was determined to find a husband and keep her baby. She soon met Herbert Smith, a young metal worker from Walton-on-Thames, and they began courting.
Married life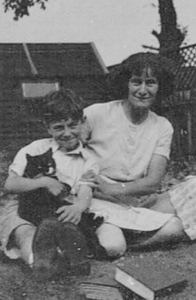 Jessie married Herbert on 23 January 1932 in Walton-on-Thames. Just four days later she gave birth to her son in Woking Maternity Hospital in Woking, Surrey. She had just made it: she had managed to get married before giving birth and therefore keep her son, who was legally Herbert's child and registered as such, and begin a comfortable family life. Herbert moved Jessie and her son into his new home at 17 Kings Avenue, Sunbury-on-Thames, Middlesex, a smart bungalow they owned outright.
Throughout the 1930s, Jessie and Herbert enjoyed many camping and caravanning trips with their best friends, Bill and Marg Skeet. Inkpen, Berkshire was a favourite destination. When the Second World War broke out, Herbert became a home reserve worker, building RAF aircraft at Vickers in Byfleet, Surrey. The war proved to be a distressing time for the family, with several neighbours being killed in raids, including a family down the street whose children went to school with Jessie's son. Some better news came in 1942, when Jessie and Herbert welcomed their daughter Jennifer. Herbert was a strict, domineering husband and father. When her son went out at night, as an act of quiet kindness Jessie would secretly open his bedroom window so he could get back in without disturbing Herbert, thus saving him from a great deal of trouble.
Move to Australia
In the 1950s, the sheet metal industry in Britain was becoming increasingly automated and employment for Herbert was precarious. Herbert had idealistic views, supporting the Communist party, and saw post-war Britain as a bleak, desolate place best left behind. He would have migrated sooner, but delayed the move so as not to disrupt his daughter's education at Surrey Girls Grammar. He first planned to migrate to Canada, but soon before departing decided on Australia instead.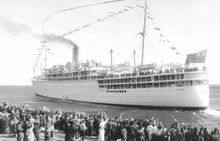 On 10 January 1957, Herbert, Jessie and Jennifer boarded the Strathmore and headed for Sydney. They settled in country New South Wales, living at 293 Peisley Street, Orange, New South Wales. Later that year, Jessie's son Patrick and his new wife migrated onboard the Strathaird, and stayed in Orange for several months before moving to the South Coast (New South Wales).
Life in country NSW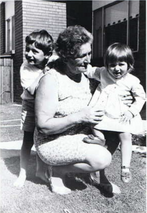 In Orange, Herbert found work as a panel beater, and Jessie ran a country motel, with Herbert assisting in the background. Being highly energetic and loquacious, Jessie was in her element running her motel and meeting people from a range of backgrounds coming through Orange. Jessie took great pleasure in her housework, singing and whistling cheerfully while completing it. Surrounded by native Australian wildlife and fauna, Orange provided Jessie which the ideal lifestyle. Things got even better when Jessie became a grandmother and was able to dote her grandchildren. She loved taking them to toy shops to buy them plenty of gifts. She insisted they stay up to midnight on Christmas morning so they could open their presents, as she was unable to contain her excitement at seeing their reactions.
Retirement to the Gold Coast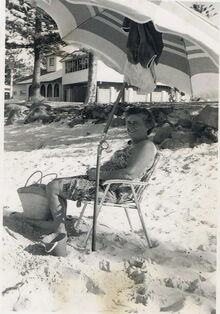 In about 1970, Jessie and Herbert retired to Queensland's Gold Coast, settling in their home on Mermaid Beach at 37 Keirs Street, Miami, Queensland. Jessie and Herbert enjoyed visits from her children and grandchildren who spent school holidays with them on the Gold Coast. She also enjoyed hosting her sister Isabel on her visits from England. Jessie greatly enjoyed her quiet, relaxing retirement in Queensland, spending long days at the beach and tending her large tropical garden. She also enjoyed reading and watching game shows, with silence in the house strictly enforced when The Price is Right was on. A tea and biscuit with Herbert was an evening ritual.
On the afternoon of 31 December 1976, Jessie collapsed with chest pains while tending to her garden on an extremely hot summer day. She was taken to Southport Hospital where it was confirmed she had suffered a massive heart attack. She convalesced on the hospital verandah and remained cheerful and optimistic until her sudden death on 30 January 1977 aged 66.
Jessie was cremated and as she had always wanted to move back to country NSW, her family arranged for her ashes to go to her beloved Orange where she was laid to rest.
Residences
Footnotes (including sources)