John Alden was born 24 January 1745 in Duxbury, Plymouth County, Massachusetts to Briggs Alden (1723-1796) and Mercy Wadsworth (1724-1812) and died 17 November 1766 Casco Bay, Plymouth County, Massachusetts of drowned at sea.
Son of Briggs Alden and Mercy Wadsworth John, drowned 17 November, 1766, in his 22d year; on his passage from Casco Bay to Duxbury.
Siblings
Vital Records
Duxbury Gravestone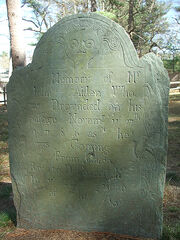 Gravestone Location: Myles Standish Burial Ground at Duxbury, Massachusetts. Gravestone Inscription:
"In Memory of Mr. John Alden Who was Drownded on his passage November ye 17th 1766 as he was Coming From Casco Bay to Duxborough in ye 22nd year of his Age"
References
Residences
Footnotes (including sources)