John Barnard, Sr. was born circa 1632 in Dedham, Essex, England to John Barnard (c1607-1646) and Phebe Whiting (1606-1685) and died after 1680 Watertown, Middlesex County, Massachusetts of unspecified causes. He married Sarah Fleming (1639-1716) 15 November 1654 in Watertown, Middlesex County, Massachusetts.
Biography
1634 Voyage to America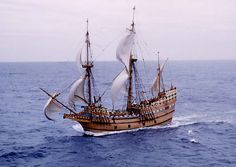 He was a passenger on the 1st Voyage of the English ship Elizabeth, which sailed from Ipswich in April, 1634, bound for New England. The ship arrived safe at Massachusetts Bay. Passenger list information was transcribed in the 19th century by Michael Tepper from records found in London, the Public Rolls Office, formerly at Carleton Ride. Note the ship sailed in April 1634, but the passeger listed is dated six months later to November 1634. Do not confuse this list with the second voyage of the Elizabeth made in 1635.
On the 1634 passnger list are found John (#22) and Phoebe (#23), with sons John (#86) and Samuel (#87), left Ipswich, England in April, 1634 aboard the ship Elizabeth, bound for New England. Settled in Watertown, MA. Also listed is Thomas (#88) - age 15, who is probably a younger brother to John. The passenger list puts John's age at 30 - supporting a birthdate of 1604.
CHURCH MEMBERSHIP: Admission to Watertown church prior to 3 September 1634 implied by freemanship.
FREEMAN: 3 September 1634 (as "John Bernard," fourth in a sequence of eleven Watertown men) [MBCR 1:369].
Children
Offspring of John Barnard, Sr. and Sarah Fleming (1639-1716)
Name
Birth
Death
Joined with

John Barnard (1656-1656)



John Barnard (1657-1732)
30 October 1657 Watertown, Middlesex County, Massachusetts
27 March 1732 Watertown, Middlesex County, Massachusetts
Sarah Cutting (1661-1694) Elizabeth Stone (1672-1694) 

Sarah Cutting (1661-1694)

 Elizabeth Stone (1672-1694) 

Mary Morse (1672-1707)




Sarah Barnard (1659-1660)




Samuel Barnard (1664-)




Sarah Barnard (1665-1665)



James Barnard (1666-1726)
14 November 1666 Watertown, Middlesex County, Massachusetts, United States
23 January 1726 Watertown, Middlesex County, Massachusetts, United States
Judith Jenison (1667-)


Anne Barnard (1670-1757)




Phebe Barnard (1673-1751)




Jane Barnard (1678-1763)
Siblings
Residences
Footnotes (including sources)