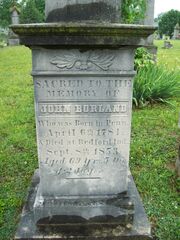 John originally applied for land at the Steubenville Land Office on Nov. 27, 1817, #6945. John bought land at the NE corner of R6 T13 S15 in Harrison Co., Ohio, on Mar. 7, 1818. This is in Monroe township. By 1833 he owned a tract of land in Orange twp., Carroll Co. adjacent to his brother James at R6 T13 S28. On Sep 25, 1835 he bought 105 acres of land at Township 005N Range 001E W½NW¼ Section 30 in Lawrence County, Indiana. This was very near his brother Matthew.1840 census, Lawrence co., IN -- John Borland age 50-59. John Borland is buried at Green Hill Cemetery, Lawrence County, Indiana in the town of Bedford. John and his brothers Matthew, Andrew and David all ended up there. John's wife Ann died soon after their marriage. It appears that he never had any children or remarried.
Parents
[
]
Marriage to Ann Stevenson
[
]
John married Ann Stevenson (bet1765&1785-?).