Jurassic World: Dominion Dominates Fandom Wikis - The Loop
Play Sound
Biography
John Carr was born 14 November 1656 in Salisbury, Essex County, Massachusetts to George Carr (1599-1682) and Elizabeth Dexter (1623-1691) and died 25 December 1689 Salisbury, Essex County, Massachusetts of unspecified causes.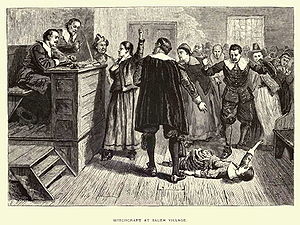 The Salem witch trials were a series of hearings and prosecutions of people accused of witchcraft in colonial Massachusetts between February 1692 and May 1693. More than 200 people were accused, nineteen of whom were found guilty and executed by hanging (fourteen women and five men). One other man, Giles Corey, was pressed to death for refusing to plead, and at least five people died in jail. It was the deadliest witch hunt in the history of the United States.
John was the son of George Carr and his wife Elizabeth. He apparently was engaged for a time, but his father called it off. He is described in some records as "crazed or distempered in his head." He may have been one of the people who others said was tortured by "witches."
Unfortunately, the Carr family became entangled in the Salem witchcraft trials. According to the book, "The old families of Salisbury and Amesbury, Massachusetts ; with some related families of Newbury, Haverhill, Ipswich and Hampton," which can be found online here: https://archive.org/details/cu31924025963772 (see page 86), William's sister Ann and her husband were very involved in the Salem witchcraft trials, especially in the trial of Mrs. Bradbury. Ann's daughter, also named Ann, was one of the most active of the "afflicted children" or "accusing girls." Richard and James both testified against Mrs. Bradbury, but William testified in her favor. Way to go William.
Siblings
Offspring of George Carr (1599-1682) and Elizabeth Oliver (1624-1691)

Name
Birth
Death
Joined with

Elizabeth Carr (1642-1692)

George Carr (1644-1685)

Richard Carr (1646-1649)

William Carr (1648-1726)

James Carr (1650-1726)

Mary Carr (1651-1688)
24 February 1651 Salisbury, Essex County, Massachusetts
28 October 1688 Killingworth, New London County, Connecticut
James Bayley (1650-1706)

Sarah Carr (1654-1700)

John Carr (1656-1689)
14 November 1656 Salisbury, Essex County, Massachusetts
25 December 1689 Salisbury, Essex County, Massachusetts
Richard Carr (1659-1727)
2 April 1659 Salisbury, Essex County, Massachusetts
11 September 1727 Salisbury, Essex County, Massachusetts

Elizabeth Unknown (c1660-c1682)


Dorothy Boyce (1659-1694)


Sarah Healey (1662-1727)

Ann Carr (1661-1699)
15 June 1661 Salisbury, Essex County, Massachusetts
8 June 1699 Salem, Essex County, Massachusetts
Thomas Putnam, Jr. (1652-1699)
Residences
See Also
Footnotes (including sources)