Child Immigrant to New England
Married into Hutchinson Family
Biography
John Cole was born circa 1625 in Kent, England to Samuel Cole (c1597-1667) and Ann Unknown Cole (c1600) and died 9 December 1768 Wickford, Washington County, Rhode Island of unspecified causes. He married Susanna Hutchinson (1633-1713) 30 December 1651 in Kingstown, Rhode Island.
John Cole was the only known son of Boston's first inn & tavern keeper Samuel Code and his first wife Ann____. He was born in England shortly before Winthrop's great migration of the year 1630.
Winthrop Fleet 1630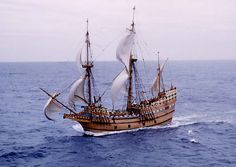 At age he sailed with his parents on the English Winthrop Fleet, which sailed under direction from Gov. John Winthrop from England in 1630 bound for to settle Massachusetts Bay Colony, landing first at Salem. The ship arrived safe at Massachusetts Bay. But nearly 200 of the 600 passengers onboard died in the first year there.
Marriage and Family
He married in Boston on 30 December 1651 Susanna Hutchinson (1633-1713), the only child of William and Anne Hutchinson to survive the Indian massacre in New Netherland that killed her mother and many of her siblings. Susanna had been taken captive for several years before being returned to family members in Boston. The Hutchinsons had been very close neighbors of the Coles in Boston before Mrs. Hutchinson was forced to leave the Massachusetts Bay Colony in early 1638 following the events of the Antinomian Controversy.
Children
Offspring of Susanna Hutchinson Cole and John Cole (1625-1707)
Name
Birth
Death
Joined with
Susanna Cole (1656-1726)
1656 Boston, Suffolk County, Massachusetts
1726

Kings Town

, Washington County, Rhode Island
Thomas Eldred (1648-1726)


Samuel Cole (1656-1667)




Mary Cole (1658-)




John Cole (1658-1660)



Ann Cole (1661-1704)
7 March 1661 Boston, Suffolk County, Massachusetts
31 May 1704 North Kingstown, Washington County, Rhode Island
Henry Bull (1659-1691)


Francis Cole (1663-)




Hannah Cole (1668-)



William Cole (1671-1734)
13 July 1671

Kingstown

,

King's Province

, Rhode Island
17 September 1734 North Kingstown, Washington County, Rhode Island

Ann Pinder (1675-)




Elizabeth Cole (1675-)




Elisha Cole (1675-)
Siblings
Residences
Footnotes (including sources)