Biography
John Compton was born 8 December 1603 in Kent, England to Thomas Compton (1564-1606) and Elizabeth Bigge (1559-) and died 8 December 1694 Roxbury, Suffolk County, Massachusetts of unspecified causes. He married Elizabeth Compton (1595-) 8 June 1619 in St Mary's Church, Whalley, Lancashire, England. He married Susannah Freeman (1605-1664) 1632 in Massachusetts.
John left Cranbrook, Kent, England for America in 1634 at the age of 29. Roxbury was his first residence in the Massachusetts Bay Colony. He was one of eleven men who, "having license to depart, summons is to go out for them to appear (if they not be gone before) at the next court, the third month, to answer such things as shall be objected".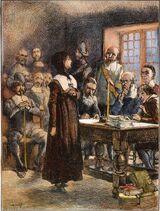 In 1636-1638, Massachusetts Bay Colony, this family were of the Free Grace theology of Puritan minister John Cotton. The most notable Free Grace advocates, often called "Antinomians", were charismatic Anne Hutchinson, her brother-in-law Reverend John Wheelwright, and Massachusetts Bay Governor Henry Vane. In the summer of 1637 their opponents led by Gov John Winthrop won back political control of the colony. The following trial led to the banishment many of the leaders of this movement.
He was among the Boston men disarmed on 20 November 1637/38. John was an ?Antinomian? claiming that living a devout, 'saintly' life excused them from obeying civil laws. The Puritan Orthodoxy held this as one of their tenets. However, living a saintly life could not help an individual to receive grace - to claim otherwise would be to preach a covenant of works. The Antinomians wanted sanctification to play no part in justification whatsoever. The Orthodox Church?s standpoint was that if Antinomians didn?t need to obey any laws, they would eventually become libertines. Clearly this presented problems for the political stability of the colony.
Travels in America
He was in Piscataway New Hampshire from 1638 to 1640 and left for Maryland shortly thereafter, before returning to Boston in 1640.
John Compton of Boston in New England, clothier, gave power of attorney to Robert Scott of Boston, merchant, to "recover his title to certain lands (with power to rent the said lands) to him descending". Legal/Court Date: 17 Nov 1646 Age: 41 Legal/Court Place: Suffolk County, Massachusetts.
On 20 Jun 1648 he and eight other men were given "liberty to build a highway from their houses, over the marsh to the bridge "and were freed from paying highway charges for nine years in recompense". This liberal freedom from taxation was later amended to pay each man 9 pounds, 16 shillings.
Children
Siblings
Residences
See Also
John Compton

Compton in Suffolk County, Massachusetts

John Compton - GENI
Footnotes (including sources)