We're Getting Mutants in the MCU - The Loop
Play Sound
John Crackstone, Jr. was born circa 1602 in England to John Crackstone (c1575-1620) and Catherine Bates and died circa 1628 Plymouth Colony, Plymouth, Plymouth County, Massachusetts of frostbite exposure.
Biography
John Crackston (Jr.) was born about 1602, also presumably in England. He never married. He is believed to have died of a fever in the winter 1627-1628 brought on by frostbite caused by being lost in the forest. Per Bradford, John Crackston Jr. died five or six years after their arrival on the Mayflower although it was probably later than that as he appears in the 1627 Division of Cattle, appearing as "John Crakstone" with the Allerton family. His name also appeared in the 1623 Division of Land as "John Crackston" with the Winslow family. It is believed that John Crackston Jr. died sometime after the 1627 Division of Cattle, possibly the next winter. His burial place is unknown.
Siblings
Vital Records
Plymouth Memorial
John Crackston (Sr.) died sometime in the winter of 1620, per William Bradford among the first Mayflower passengers to die, although a later date is also given. The exact date is unknown. As with most passengers who died that winter, he was most likely buried in an unmarked grave in Coles Hill Burial Ground, Plymouth. He is memorialized on the Pilgrim Memorial Tomb on Coles Hill as "John Craxston Sr."
Bradfords Passenger List
In 1651, William Bradford recollected about the fate of John Crackston and his son John:
"John Crakston dyed in the first mortality, and about some *5* or *6* years after, his sone dyed; having lost him selfe in the wodes, his feet became frosen, which put him into a feavor, of which he dyed."
Pilgrim Monument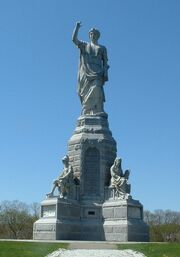 National Monument to the Forefathers, commemorates the Mayflower Pilgrims, (including this person) who came to Plymouth Colony in 1620 on the Mayflower. Dedicated on August 1, 1889, it is thought to be the world's largest solid granite monument. Located on an 11 acre hilltop site on Allerton Street in Plymouth, Massachusetts.
References
Residences
Footnotes (including sources)