Jurassic World: Dominion Dominates Fandom Wikis - The Loop
Play Sound
Biography
John Dryden was born 9 August 1631 to Erasmus Dryden (1588-1654) and Mary Pickering (c1592-1676) and died 12 May 1700 of unspecified causes. Charlemagne (747-814)/s, Henry II of England (1133-1189)/s, Hugh Capet (c940-996)/s, William I of England (1027-1087)/s.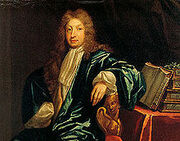 John Dryden (1631-1700) was an English poet, literary critic, translator, and playwright who was made Poet Laureate in 1668.
He is seen as dominating the literary life of Restoration England to such a point that the period came to be known in literary circles as the Age of Dryden. Walter Scott called him "Glorious John."
Early Life
Dryden was born in the village rectory of Aldwincle near Thrapston in Northamptonshire, where his maternal grandfather was Rector of All Saints. He was the eldest of fourteen children born to Erasmus Dryden and wife Mary Pickering, paternal grandson of Sir Erasmus Dryden, 1st Baronet (1553–1632) and wife Frances Wilkes,
Puritan landowning gentry who supported the Puritan cause and Parliament. He was a second cousin once removed of Jonathan Swift. As a boy Dryden lived in the nearby village of Titchmarsh, Northamptonshire where it is likely that he received his first education. In 1644 he was sent to Westminster School as a King's Scholar where his headmaster was Dr Richard Busby, a charismatic teacher and severe disciplinarian.
Family & Marriage
On 1 December 1663 Dryden married Lady Elizabeth Howard (died 1714). The marriage was at St. Swithin's, London, and the consent of the parents is noted on the license, though Lady Elizabeth was then about twenty-five. She was the object of some scandals, well or ill founded; it was said that Dryden had been bullied into the marriage by her brothers.
A small estate in Wiltshire was settled upon them by her father. The lady's intellect and temper were apparently not good; her husband was treated as an inferior by her social equals.
Both Dryden and his wife were warmly attached to their children. They had three sons: Charles (1666–1704), John (1668–1701), and Erasmus Henry (1669–1710). Lady Elizabeth Dryden survived her husband, but became insane soon after his death. Though some have historically claimed to be from the lineage of John Dryden, his three children had no children themselves.
Children
Offspring of John Dryden and unknown parent

Name
Birth
Death
Joined with

Charles Dryden (1666-1704)

John Dryden (1668-1701)

Erasmus Henry Dryden (1669-1710)
References
See also
External links
Contributors
Footnotes (including sources)