Jurassic World: Dominion Dominates Fandom Wikis - The Loop
Play Sound
John Dunham was born 8 February 1589 in Scrooby, Nottinghamshire, England, United Kingdom to Thomas Dunham (1556-1600) and Jane Bromley (1560-1588) and died 2 March 1668 Plymouth, Plymouth County, Massachusetts, United States of unspecified causes. He married Susan Kaino (c1586-1622) 1614 in Leiden, South Holland, Netherlands. He married Abigail Barlow (1596-1665) 1622 . Alfred the Great (849-899)/s, Charlemagne (747-814)/s, Henry II of England (1133-1189)/s, Hugh Capet (c940-996)/s, William I of England (1027-1087)/s, Rollo of Normandy (860-932)/s.
Biography
Deacon John Dunham was a Pilgrim Dissenter that first traveled from Nottingham to Holland and then in 1629 to Plymouth Colony in America.
Deacon John Dunham b 1589 in Scrooby; went to Leydon Holland with the Pilgrim Dissenters 1608; m firstly Susanna Kenney and had 4 children; md secondly 1622 Abigail Balliou in Leydon; went to Plymouth Massachusetts in 1629; died in Plymouth 1668. The Deacon had 12 children total.
Scrooby Separatists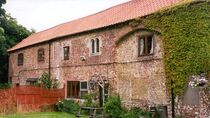 Scrooby Separatists were a mixed congregation of early English Protestants / non-conformists founding living in the border region of of South Yorkshire, Lincolnshire and Nottinghamshire. They were called "Separatists" because of their rebellion against the religious authority of the Church of England, the official state religion. In 1607/8 the Congregation emigrated to Netherlands in search of the freedom to worship as they chose. Shortly after that they were the basis of the group to sail in the Mayflower to the New World.
Family of John Dunham
Abigail Dunham (1626-1669) - md Stephen Atwood
Jonathan Dunham (1631-1717) - md Mary Delano and 2) Mary Cobb - 1st pastor of the church in Edgartown MA

Hannah Dunham (1630-1709)

- md Giles Rickard

Mary Dunham (1634-1709)

- md Giles Rickard
Persis Dunham (1635-1702) - md Benjamin Pratt

Benjamin Dunham (1637-1680)

- Mayr Elizabeth Tilson

Joseph Dunham (1637-1703)

- md Mercy Morton

Daniel Dunham (1639-1677)

-
Children
Offspring of John Dunham and Abigail Barlow (1596-1665)

Name
Birth
Death
Joined with
Abigail Dunham (1626-1669)
1626
1669
Stephen Atwood (1616-1693)

Hannah Dunham (1630-1709)

Jonathan Dunham (1631-1717)
1631 Plymouth, Plymouth County, Massachusetts
18 December 1717

West Tisbury

, Dukes County, Massachusetts
Mary Delano (1635-1656)


Mary Cobb (1637-1677)

Mary Dunham (1634-1709)

Persis Dunham (1635-1702)
1635 Plymouth, Plymouth County, Massachusetts, United States
1 October 1702 Plymouth, Plymouth County, Massachusetts, United States
Benajah Pratt (1631-1682)

Joseph Dunham (1637-1703)

Daniel Dunham (1639-1677)

Benjamin Dunham (1640-1742)
Siblings
Residences
Footnotes (including sources)
| | |
| --- | --- |
| ¶ Death | Success of the Plymouth Colony is due to the industry and experience of Deacon John Dunham |