Rev John Fiske, Sr. was born 1629 in Suffolk, England to Nathaniel Fiske (1592-) and Sarah Horton (1594-1696) and died 28 October 1684 Watertown, Middlesex County, Massachusetts of unspecified causes. He married Sarah Wyeth (1632-1701) 11 December 1651 in Watertown, Middlesex County, Massachusetts.
Biography
John Fiske was born about 1619, according to his age given at death. He was probably born in Weybred, Suffolk, England. According to New England Families, he was the son of Nathaniel Fiske and Dorothy Symonds. He came to New England as a young man and took the oath of fidelity in Watertown in 1652. He married, on December 11th, 1651 in Watertown, Sarah Wyeth. They had at least ten children born in Watertown. He died on October 28th, 1684, his age being given at the time as 65 years. His estate was inventoried on November 28th, 1684. It had a value of L 94, s 10. John had brother, Nathaniel, born in 1615, who also emigrated to Watertown.
Genealogy and Personal Memoirs, by Wm. R. Cutter, vol. 2, pg. 1094-95:
John Fiske, son of Nathaniel and Dorothy Symonds (Simonds) Fiske, was born in England about 1619, and died in Watertown, Massachusetts, October 28, 1684. He came to Massachusetts with his brother Nathan and his father Nathaniel. The mother had probably died in England. The father died on the passage over. John may have come to New England in 1637 with the Fiske -Allen company, which included the John Fiske family of six, Rev. John Allen family of three, the Tuttle family of six, Edmund Thompson and wife, the George Barrell family of five, the John Fiske family of three, Martin Underwood and wife, the Henry Chickering family of four, the Francis Chickeringfamily of four, the David Fiske family of three, Nathan Fiske and wife, the William Fiske family of six, the Phineas Fiske family of five, and the Benjamin Cooper family of eleven. This company was made up of families from the northeast Suffolk and south Norfolk area. John took the oath of fidelity in 1652. The inventory of his estate was made on November 28, 1684 and amounted to L 94 10s. He married December 11, 1651, Sarah Wyeth, only child of Nicholas by his first wife. Children: John (died young), John, Margaret, Mary, William, Martha, Elizabeth, Nathaniel, Abigail
Watertown Founders Monument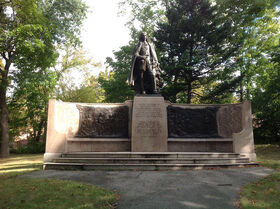 He is listed on Watertown Founders Monument, commemorating the first settlers of Watertown, Massachusetts. The town was first known as Saltonstall Plantation, one of the earliest of the Massachusetts Bay Colony settlements. Founded in early 1630 by a group of settlers led by Richard Saltonstall and George Phillips, it was officially incorporated that same year. The alternate spelling "Waterton" is seen in some early documents.
This monument lists David Fiske (1601-1662), his step-brother Nathaniel Fiske (1615-1676), cousin John Fiske (c1629-1684) and two brother in-laws, Gregory Stone (1590-1672) and Martin Underwood (1596-1672).
Marriage and Family
Children
Siblings
Vital Records
References
Residences
Footnotes (including sources)