John Knight was born 30 January 1594 in Romsey, Hampshire, England to Phillip Knight (1569-1654) and Margery Knight (1572-1630) and died 22 May 1674 Charlestown, Middlesex County, Massachusetts of unspecified causes. He married Mary Pickering (1596-1676) 1619 in Romsey, Hampshire, England.
Biography
John Knight, carpenter, came to New England with wife, MARY (PICKERING) KNIGHT (married 1619 in Romsey, Southampton, England) & at least one child - my ancestor, JOSEPH KNIGHT. They settled first in Cambridge in 1635. He was a Watertown proprietor in 1636 and which was the year that he was named a Freeman in Mass. Bay Colony. He sold his land at Watertown on June 5, 1640. In 1640, he bought land in Sudsbury and was a proprietor there. He removed to Charlestown & then Woburn (proprietor in 1650) and back to Charlestown before his death. His will was dated December 14, 1672 & probated June 10, 1674 at which time a gift to his granddaughter & my ancestor, ELIZABETH KNIGHT, was confirmed. He bequeathed also to his sister, Abigail and to son-in-law Robert Pierce of Woburn.
Watertown Founders Monument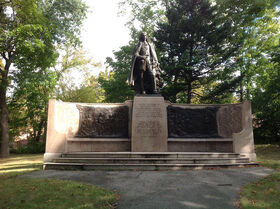 He is listed on Watertown Founders Monument, commemorating the first settlers of Watertown, Massachusetts. The town was first known as Saltonstall Plantation, one of the earliest of the Massachusetts Bay Colony settlements. Founded in early 1630 by a group of settlers led by Richard Saltonstall and George Phillips, it was officially incorporated that same year. The alternate spelling "Waterton" is seen in some early documents.
Marriage and Family
Children
Siblings
References
Footnotes (including sources)