John Livermore was born 30 September 1604 in Dedham, Essex, England to Daniel Livermore (1574-1611) and Elizabeth Hammond (1574-1612) and died 14 April 1684 Watertown, Middlesex County, Massachusetts, United States of unspecified causes. He married Grace Sherman (1615-1691) 1632 .
Biography
John Livermore, the ancestor of nearly all the Livermores in the United States, embarked from Ipswich, England, for New England, the last of April 1634, then aged 28 years old, in the "Francis", John Cutting, master, a large portion of the passengers settling in Watertown, Massachusetts. In the list of passengers, his name was spelt John Lyuermore.
1634 Voyage of Francis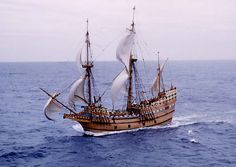 He was a passenger on the 1st Voyage of the English ship Francis, which sailed from Ipswich in April, 1634, bound for New England. The ship arrived safe at Massachusetts Bay. Passenger list information was transcribed in the 19th century by Michael Tepper from records found in London, the Public Rolls Office, formerly at Carleton Ride. Many of its passengers settled at Watertown, Massachusetts.
There is a tradition that he came over without his wife, and that afterwards, she came over with one or more children about 1637.
Watertown Founders Monument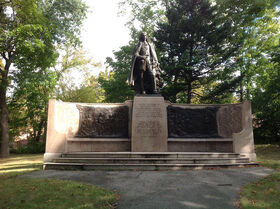 He is listed on Watertown Founders Monument, commemorating the first settlers of Watertown, Massachusetts. The town was first known as Saltonstall Plantation, one of the earliest of the Massachusetts Bay Colony settlements. Founded in early 1630 by a group of settlers led by Richard Saltonstall and George Phillips, it was officially incorporated that same year. The alternate spelling "Waterton" is seen in some early documents.
Marriage and Family
John Livermore had previously married, in England, Grace Sherman, a daughter of Edmund Sherman and Grace Makin, who had both lived in Dedham and Colchester,County Essex. Her father came to New England in 1634, and died in New Haven,CT about 1641. There is a tradition that he came over without his wife, and that afterwards, she came over with one or more children about 1637.
Children
Siblings
Vital Records
Watertown Gravestone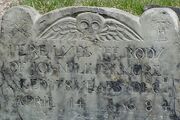 HERE LYES THE BODY OF JOHN LIUERMORE AGED 78 YEARS DECD APRIL 14 1684
Research Notes
English Parentage
About his dual set of parents, his FindAGrave memorial includes this information: "John Livermore was b. c1606 in England, possibly the son of Peter Livermore and Marabella Wysbych, according to "Bond's Watertown". More recent investigation, as related in NEHGR CL(1996):433ff, indicates he is most probably the son of Daniel Livermore and Elizabeth Hammond Livermore of Wethersfield, Co.Essex, England."
References
Residences
Footnotes (including sources)