We're Getting Mutants in the MCU - The Loop
Play Sound
John Masters was born 8 March 1581 in Aldenham, Hertfordshire, England to George Masters (1540-1623) and Marion Coker (1565-1616) and died 21 December 1639 Watertown, Middlesex County, Massachusetts, United States of unspecified causes. He married Jane Cox (1586-1639) 1602 in England.
Biography
John Masters and his young family arrived in the American Colonies as a party in the Winthrop fleet, the "Great Immigration". They likely arrived aboard the flagship "Arbella" on 6-22-1630. John and his family accompanied Sir Richard Sulton-Stall, when they paddled up the Charles River to a green place whose Indian name sounded to some like (Pigs-go-suck).
Here they found the settlement of Watertown, Massachusetts. In 1631, when Sir Richard was forced to return to England due to the illness of his two daughters, John Masters was placed in charge of all Sir Richard's interest in Watertown.
1630 Winthrop Fleet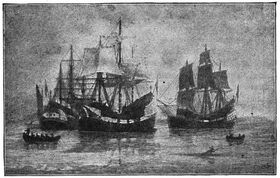 He was a passenger on the in the Winthrop Fleet in 1630, part of The Great Migration. It was the largest fleet ever assembled to carry Englishmen overseas to a new homeland. It was a well planned and financed expedition comprising eleven ships that carried 700 immigrants from England to the Massachusetts Bay Colony. The group, led by Governor John Winthrop, sailed from April to July of 1630. The fleet landed at Salem. Of the 700 on board, 200 died during the voyage, and 100 returned to England soon after arrival. Some of the 400 remaining settlers stayed in Salem, but many moved on to Boston, Watertown, or other settlements.
Watertown Founders Monument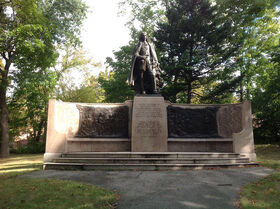 He is listed on Watertown Founders Monument, commemorating the first settlers of Watertown, Massachusetts. The town was first known as Saltonstall Plantation, one of the earliest of the Massachusetts Bay Colony settlements. Founded in early 1630 by a group of settlers led by Richard Saltonstall and George Phillips, it was officially incorporated that same year. The alternate spelling "Waterton" is seen in some early documents.
Per Savage:
John Masters of Cambridge, MA. Perhaps came in the fleet with Winthrop. Freeman 18 May 1631, "with prefix of respect, a man of skill and enterprise."

He died 21 Dec. 1639. His wife Jane died five days later.

His will, made two days before his death, names daughter Sarah Dobyson, or Dobson (nothing known of her or her husband); daughter Lydia Tabor, perhaps wife of Philip; grandson John Lockwood, probably by his daughter Elizabeth and her first husband, Edmund Lockwood; Abraham and Nathaniel Masters, "whom I judge to be the son and grandson." The residue of the estate went to daughter Elizabeth, wife of Cary Latham.
Marriage and Family
Children:
Sarah MASTERS b: Abt 1603 in , Tiverton, Devon, England
Jane MASTERS b: 1605 in , Tiverton, Devon, England
Ruth Elizabeth MASTERS b: Abt 1606 in , Tiverton, Devon, England c: Abt 1606 in , Tiverton, Devon, England
Lydia MASTERS b: 1609 in , Tiverton, Devon, England c: 1609 in , Tiverton, Devon, England
Abraham MASTERS b: 1611-1615 in <, Tiverton, Devon, England>
Nathaniel MASTERS b: Abt 1613 in <, Tiverton, Devon, England>
Children
Offspring of John Masters and Jane Cox (1586-1639)

Name
Birth
Death
Joined with

Ruth Masters (1603-1712)

Sarah Masters (1604-1639)

Son Masters (1606-)

Lydia Jane Masters (1606-1669)

Abraham Masters (1609-1639)
Siblings
Research Notes
References
Residences
Footnotes (including sources)