John McKee Fausett was born 22 December 1804 in West Gallatin, Sumner County, Tennessee, United States to Richard Fausett (1769-1848) and Mary Tucker McKee (1774-1830) and died 29 March 1874 Midway, Wasatch County, Utah, United States of unspecified causes. He married Margaret Smith (1797-1852) 10 November 1821 in Columbia, Maury County, Tennessee. He married Mary Ann Shelton (1831-1900) 28 July 1852 in Salt Lake City, Salt Lake County, Utah. He married Abigail Harris (1818-1889) 13 March 1856 in Salt Lake City, Salt Lake County, Utah.
Biography
[
]
Zions Camp Participant
[
]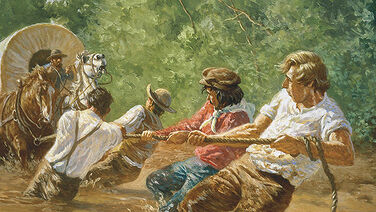 One of the most interesting episodes in the early history of LDS Church was the march of Zion's Camp (1834). The members of the Church in Missouri were being persecuted, and the Prophet Joseph made it a matter of prayer and received a revelation on February 24, 1834. The Lord instructed the Prophet to assemble at least one hundred young and middle-aged men and to go to the land of Zion, or Missouri. (See D&C 130:19–34.)
Zion's Camp, a group of approximately one hundred and fifty men, gathered at Kirtland, Ohio, in the spring of 1834 and marched to Jackson County, Missouri. By the time they reached Missouri, the camp had increased to approximately two hundred men.
Marriage and Family
[
]
Children
Offspring of John McKee Fausett and Margaret Smith (1797-1852)
Name
Birth
Death
Joined with

Catherine Candace Fausett (1821-1843)




Elizabeth Ann Fausett (1824-1842)




Amanda Caroline Fausett (1827-1906)




William Alexander Fausett (1830-1898)




Lucretia Fausett (1832-)




Elizabeth Fausett (1840-)
Offspring of John McKee Fausett and Mary Ann Shelton (1831-1900)
Name
Birth
Death
Joined with

Nancy Ann Fausett (1853-1870)




Margaret Ann Fausett (1854-1923)




Amanda Angeline Fausett (1856-1922)




Mary Elizabeth Fausett (1858-1940)




Sarah Maria Fausett (1860-1880)




Julia Ann Fausett (1862-1929)




Eliza Abigail Fausett (1865-1944)




Annette Fausett (1867-1867)




Janette Fausett (1867-1867)




Ester Jane Fausett (1868-1950)




John William Fausett (1871-1939)




David Fausett (1874-1874)
Offspring of John McKee Fausett and Abigail Harris (1818-1889)
Name
Birth
Death
Joined with

Charles Edward Fausett (1856-1927)




John Fausett (1859-)
Siblings
[
]
#g1: Offspring of Richard Fausett (1769-1848) and Mary Tucker McKee (1774-1830)
Name
Birth
Death
Joined with

Alexander Fausett (1793-1858)

,
,

Sarah Mariah Fausett (1797-1823)

,
,

Nancy Brown Fausett (1797-1846)

,
,

David Fausett (1800-1870)

,
,
John McKee Fausett (1804-1874)
22 December 1804,

West Gallatin

, Sumner County, Tennessee, United States
29 March 1874,

Midway

, Wasatch County, Utah, United States
Margaret Smith (1797-1852)

+

Mary Ann Shelton (1831-1900)

+

Abigail Harris (1818-1889)
William McKee Fausett (1806-1896)
6 January 1806,

Gallatin

, Sumner County, Tennessee, United States
6 September 1896, Provo, Utah County, Utah, United States
Matilda Caroline Butcher (1809-1867)

+

Ruth Bailey Logan (1817-1892)

+

Elizabeth Trachsler (1820-1898)

+

Matilda Hardy (1843-1896)

Eliza McKee Fausett (1808-1896)
25 July 1808, Columbia, Maury County, Tennessee, United States
8 August 1896,

Scipio

, Millard County, Utah, United States
James Russell Ivie (1802-1866)
Amanda Armstrong Fausett (1810-1885)
6 May 1810, Columbia, Maury County, Tennessee, United States
24 April 1885, Tonto Basin, Gila County, Arizona, United States
Moses Martin Sanders (1803-1878)

Mary McKee Fausett (1811-)

,
,

Rebecca Stone Fausett (1813-1896)

,
,

Martha Spencer Fausett (1815-1873)

,
,

Harriet Berryhill Fausett (1817-1849)

,
,

Catherine Fausett (1819-1846)

,
,
Vital Records
[
]
Midway Gravestone
[
]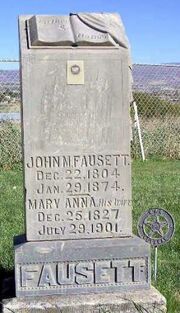 See Also
[
]
References
[
]