John Packer was born 12 November 1572 in Twickenham, Middlesex County, England to William Packer (1546-1604) and Margaret Mountlow (1530-1609) and died 15 February 1649 England of unspecified causes. He married Philippa Mills (1590-1665) 12 November 1572 JL in London, Middlesex, England.
Biography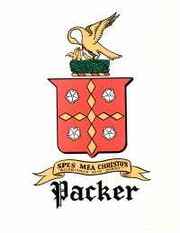 Packer Crest awarded to John Packer about 1640 by King James of England. The bird symbolizes Sacrificing for Family. John was deeply religious, memorized the entire New Testament, paid tithing plus assisted the poor with half of his significant rents!
John Packer was Clerk of the Privy Seal.
Children
Offspring of John Packer and

Philippa Mills (1590-1665)

Name
Birth
Death
Joined with

Robert Packer (1614-1681)




Elizabeth Packer (1616-1635)




George Packer (1617-1640)



Philip Packer (1618-1686)
7 June 1618

Groombridge

, Kent, England
24 December 1686

Groombridge

, Kent, England

Isabella Berkeley (1631-1664)

 

Isabella Berkeley (1631-1664)

 

Sarah Isgar (1626-1677)




Frances Packer (1619-1633)




Katherine Packer (1622-1689)




John Packer (1624-1707)




William Packer (1626-1655)
Siblings
#g1: Offspring of William Packer (1546-1604) and

Margaret Mountlow (1530-1609)

Name
Birth
Death
Joined with

Anne Packer (1561-1631)

,
,

Marie Packer (1562-1563)

,
,

Margaret Packer (1565-)

,
,

Arthur Packer (1567-1608)

,
,

Dorothie Packer (1568-)

,
,

Frances Packer (1569-)

,
,

Alexander Packer (1570-1638)

,
,

Thomas Packer (1571-)

,
,
John Packer (1572-1649)
12 November 1572,

Twickenham

, Middlesex County, England
15 February 1649, England

Philippa Mills (1590-1665)

Robert Packer (1574-1643)

,
,

Toby Packer (1574-1638)

,
,

Jewdith Packer (1578-1578)

,
,
Famous Descendants
Residences
Footnotes (including sources)