John Rigsdale was born 9999 in England, United Kingdom and died 1620 Plymouth, Plymouth County, Massachusetts, United States of unspecified causes. He married Alice Rigsdale (-1621) in England.
Research Notes
Nothing much is known about John and Alice Rigsdale, other than the fact they both came on the Mayflower and they both died at some time during the first winter at Plymouth Colony, probably between January and March 1621. John was 20th of the 41 signers of the Mayflower Compact.
There is a marriage record of a John Rigsdale and an Alice Gallard at St. Mary, Weston, Lincolnshire, England on 17 November 1577. If this marriage is actually the Mayflower couple, then they were perhaps among the oldest of the passengers, likely in their 60s or 70s.
Vital Records
From Bradfords Journal
Written circa 1651 by Gov Wm Bradford:
John Rigdale, and Alice, his wife.
Thomas Tinker... all dyed in the first sickness. And so did John Rigdale, and his wife.
Cole's Hill Memorial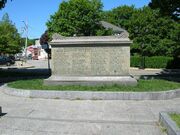 A large monument was erected in 1921 on Cole's Hill in Plymouth, Massachusetts to honor the many pilgrims who came to Plymouth Colony in the Mayflower but died during the first terrible winter and were buried here. This person is one of those person's listed thereon.
Pilgrim Monument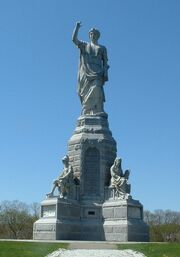 National Monument to the Forefathers, commemorates the Mayflower Pilgrims, (including this person) who came to Plymouth Colony in 1620 on the Mayflower. Dedicated on August 1, 1889, it is thought to be the world's largest solid granite monument. Located on an 11 acre hilltop site on Allerton Street in Plymouth, Massachusetts.
References
Residences
Footnotes (including sources)