Jurassic World: Dominion Dominates Fandom Wikis - The Loop
Play Sound
Child Immigrant to America (1634)
Built first grist mill in Newton MA
Biography
Lt. John Spring III was born circa 1630 in Lavenham, Suffolk, England to John Spring (c1584-1664) and Elinor Spring (1588-1657) and died 18 May 1717 Newton, Middlesex County, Massachusetts of unspecified causes. He married Hannah Barsham (1637-1710) 19 December 1656 in Watertown, Middlesex County, Massachusetts.
According to Bond's "Genealogies of the Families...of Watertown," John's father John Spring came to New England in 1634 on the Elizabeth. He is listed as age 45, with wife Elinor age 46, Mary age 11, Henry age 6, John age 4, and William 9 months. The family settled in Watertown (where John's father is listed on Watertown Founders Monument).
Newton Grist Mill
This John did not remain in Watertown, but rather removed to Newton. His older brother Henry inherited the old homestead in Watertown.
Newton was settled in 1630 as part of "the newe towne", which was renamed Cambridge in 1638. Newton was incorporated as a separate town, known as Cambridge Village, in 1688, then renamed Newtown in 1691. John is mentioned repeatedly in the book, "A history of the early settlement of Newton" (see source below.) See especially page 415. It says that John built the first grist mill in Newton.
When his mother died in 1657, his father came to live in his home in Newton until his death.
Marriage and Family
He married in Watertown in 1656, Hannah Barsham (her father is also on Watertown Founders Monument).
They have children with birth records in Watertown, (some have duplicate birth records in Newton) including:
Hannah, d. John and Hannah (Barsham), Oct. 1, 1657.
Mary, d. John and Hannah (Barsham), June 10, 1659.
Susanah, d. John and Hannah (Barsham), Apr. 16, 1661.
Sary, d. John and Hannah (Barsham), 6: 12m: 1662.
Rebeckah, d. John and Hannah (Barsham), 10: 12m: 1664.
Abigail, Feb. 20, 1666
Susannah, Aug. 18, 1670
Mary or Mercy, Feb. 19, 1672
Elizabeth, April 7, 1675
John, 1678
Research Notes
So 10 in total. Note that the first 9 children were all girls.
Sometimes in those days, parents reused names of children who died very young. This seems to be the case for the Susannah born in 1661 and the Susannah born in 1670. But that does not seem to be the case for the Mary born in 1659 and the "Mary or Mercy" born in 1672. The Mary born in 1659 apparently did not die young, but married in 1681. The daughter born in 1672 appears to probably be Mercy then.
Children
Siblings
Residences
Vital Records
Gravestone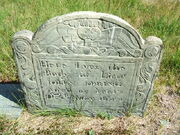 See Also
John Spring

- Disambiguation
Footnotes (including sources)