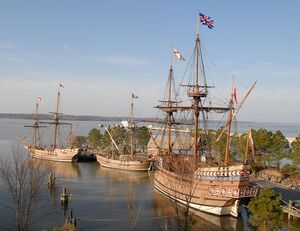 Stats
[
]
Born: ca 1588, England
Died: bef 4 Feb 1655/56 Charles City, Charles City Co, Virginia, when second wife Elizabeth proved his will
Burial:
Immigration
[
]
February 1613, arrived at Jamestown on the ship "Treasurer," settled in Charles City Co, Virginia
His wife Ann, arrived on the "Ann" August 1623; servant William Nicholls, the "Dutie" May 1619.  (from the Jamestown Colony Muster of 1624/25, available at VirtualJamestown.org/muster.
The Colony muster of 1624/25 indicates that John Claye/Clay was a colony planter before the government of Sir Thomas Dale.
"JOHN CLAY, 1200 acs. Chas. Citty Co., 13 July 1635, p. 230. Bounding from land graunted by order of Ct. to
Capt. Francis Hooke to the head of Ward his Cr., E. upon same, S. W. into the maine land & N. upon James Riv. 100 acs. due to him as being an old planter at or before the govmt. of Sir Thomas Dale &c. 1100 acs. for trans, of 22 persons.* " (*Headrights not listed) [Nell Marion Nugent, Cavaliers and Pioneers; Richmond: Dietz Printing Co., 1934. p 27]
Occupation
[
]
Hired soldier under the British command; planter
Parents
[
]
Father: not known
Mother: Not known
Marriage 1
[
]
Children
[
]
♂William Clay (aft 1624/25 - ) (he is not listed on the Colony Muster) married Emlin (--?--)
Marriage 2
[
]
Elizabeth (--?--)
Children
[
]
Charles Clay (1638-1686) m Hannah Wilson ca 1667
Notes and references
[
]
There is NO evidence that John Clay(e) had a middle name. Middle names were not used at that time, and there is no contemporary source for that usage. It is thought that the middle name of "Thomas" came from a mis-reading of a record of a later John Clay, who signed his name within a written document with a "J," which, at the time was equivalent to today's "I". This, in turn, was mis-read/represented by a transcriber as a "T," and a later reader decided that "Thomas" would be a good name.