John Thomas, Sr. was born 1621 in Scrooby, Nottingthamshire, England to Thomas Thomas (1584-1635) and Katherine Seward (1599-1635) and died 7 August 1699 Marshfield, Plymouth County, Massachusetts of unspecified causes. He married Sarah Pitney (1628-1682) 21 December 1648 in Duxbury, Plymouth County, Massachusetts.
Biography
John Thomas was an orphan, age 14, when he arrived in New England on the ship "Hopewell" in 1635. He was a servant of Gov. Edward Winslow on his plantation at Carewell, and eventually its lifelong overseer. Gov. Winslow made him a freeman and gave him a small farm.
1635 Voyage on Hopewell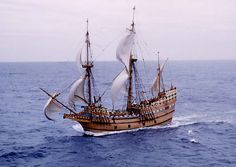 He was a passenger on the 2nd Voyage of 1635 of the English ship Hopewell, which sailed from London in Sept, 1635, bound for New England. The ship arrived safe at Massachusetts Bay. Passenger list information was transcribed in the 19th century by Michael Tepper from records found in London, the Public Rolls Office, formerly at Carleton Ride.
He married Sarah Pitney in 1648 and they had 12 children:
Children
Offspring of John Thomas, Sr. and Sarah Pitney (1628-1682)
Name
Birth
Death
Joined with

John Thomas (1649-1699)




Elizabeth Thomas (1652-1728)




Samuel Thomas (1655-1720)




Daniel Thomas (1659-1733)




Sarah Thomas (1661-1704)




James Thomas (1663-1718)




Ephraim Thomas (1667-1718)




Israel Thomas (1670-1755)
Siblings
Green Harbor Monument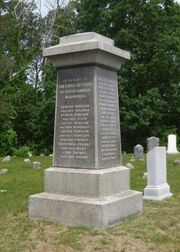 This person is listed in memorium on the Green Harbor Monument, located in Marshfield, Massachusetts and dedicated in honor of the early colonists from Plymouth Colony who settled this area in the early 1600s.
There are three men by surname of Thomas on this monument, all listed next to each other on Side 1, with the Winslow family. However, it is nearly impossible to see the relationship of any of them directly.
References
Residences
Footnotes (including sources)