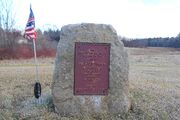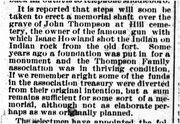 Lt. John Tomson was born 10 September 1616 in South Yorkshire, England and died 16 June 1696 Middleboro, Plymouth County, Massachusetts of unspecified causes. He married Mary Cooke (1627-1714) 26 December 1645 in Plymouth, Plymouth County, Massachusetts.
Research Notes
The first record of John Tomson in New England appears to be the 1643 list of men able to bear arms for Plymouth. John was a lieutenant.
John was fined for incontinency with wife before marriage, which indicates their first child was born too soon after marriage.
John married Mary Cooke (1627-1714) on December 26, 1645 at Plymouth, Plymouth Colony. They had children:
John Thompson was born in either Wales or England, and is thought to be of Scotch origin.
He came to New England in 1622, landing in Plymouth, Massachusetts. He was a carpenter and a farmer; with a friend, he built the first frame meeting house in Plymouth in 1637. In return for his labors the town gave him a deed of land. In time, he was a man of evident consequence in the colony.
As a Lieutenant in King Philip's War, he was equipped with a gun, brass pistol, sword and scabbard. the gun was 7 feet, 4 1/2 inches long and weighted over 20 pounds. The sword was 3 feet, 5 1/2 inches in length. Both sword and gun are now in Pilgrim Hall, Plymouth, Mass.
He closed his industrious and useful life in 1696. He was buried in the first burying ground in Middleborough, and his gravestone, the second one erected in the Middleboro Graveyard, is a small stone which has the following inscription: "In Memory of Lieut. John Thompson who died June ye 16, 1696, in ye 80th Year of is Age this is a Debt to Nature Due Which I have Paid and So Must You"
John Tompson was born on 17 June 1616 in England.1 He married Mary Cooke, daughter of Pilgrim Francis Cooke (1583-1663) and Hester Mahieu (1582-1666), on 26 December 1645 in Plymouth, (now Plymouth County), New Plymouth Colony.1 John Tompson died on 16 June 1696 in Middleboro, Plymouth County, Massachusetts, at age 79.
John Tompson is mentioned in The Great Migration Begins under Pilgrim Francis Cooke.
Children
Siblings
Residences
Vital Records
Middleboro Gravestone
See Also
John Tomson

Tomson in Plymouth County, Massachusetts
Footnotes (including sources)