Jurassic World: Dominion Dominates Fandom Wikis - The Loop
Play Sound
Biography
John Wildes was born circa 1618 in Dalton in Furness, Lancashire, England and died 14 May 1705 Topsfield, Essex County, Massachusetts of unspecified causes. He married Priscilla Gould (1628-1663) 23 November 1642 in Topsfield, Essex County, Massachusetts. He married Sarah Averill (1627-1692) 23 November 1663 in Topsfield, Essex County, Massachusetts. He married Mary Beales (1624-1698) 26 June 1693 in Topsfield, Essex County, Massachusetts.
Migration to America
John and his brother William emigrated from England on the Elizabeth and settled in Rowley, MA before moving to Ipswich. John gave his age as seventeen when he registered with the authorities of the port of London for the voyage to New England on 11 Apr. 1635. Also on the Elizabeth was William Whitredd, his wife, son, and three other young men. Whitredd was a carpenter as were the Wildes brothers.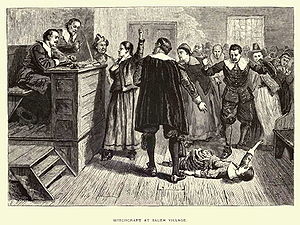 The Salem witch trials were a series of hearings and prosecutions of people accused of witchcraft in colonial Massachusetts between February 1692 and May 1693. More than 200 people were accused, nineteen of whom were found guilty and executed by hanging (fourteen women and five men). One other man, Giles Corey, was pressed to death for refusing to plead, and at least five people died in jail. It was the deadliest witch hunt in the history of the United States.
His wife, Sarah Wildes, was wrongly convicted and executed for witchcraft, and his son was one of the constables for Topsfield, Massachusetts. Afterwards he married the widow of George Jacbos, also hanged for witchcraft.
Marriage and Family
John married three times.
1. Priscilla Gould in 1645. She died in 1663.
2. Sarah Averill on 23 Nov 1663. She was born 1635 and executed 19 July 1692 at age 65 for witchcraft at Salem, Mass.
3. Mary (?) on 26 Jun 1693, who was the widow of George Jacobs who had been hanged for witchcraft 19 Aug 1692.
Children
Offspring of John Wildes and Priscilla Gould (1628-1663)

Name
Birth
Death
Joined with

John Wildes (1648-1677)

Sarah Wildes (1651-1725)

Phebe Wildes (1653-1723)

Elizabeth Wildes (1653-1723)

Priscilla Wildes (1658-1688)

Jonathan Wildes (1659-1676)

Martha Wildes (1660-1685)

Nathan Wildes (1662-1663)
Siblings
Residences
See Also
John Wildes

Wildes in Lancashire
Footnotes (including sources)