John Winslow was born 26 April 1597 in Worcestershire, England to Edward Winslow (1560-1620) and Magdelene Oliver (1566-1631) and died 1674 Boston, Suffolk County, Massachusetts of unspecified causes. He married Mary Chilton (c1605-1679) 12 October 1624 in Plymouth, Plymouth County, Massachusetts.
Biography
Brother of Mayflower passenger Edward Winslow (1595-1655), John Winslow came to Plymouth Colony in 1621 on the Fortune.
Marriage & Family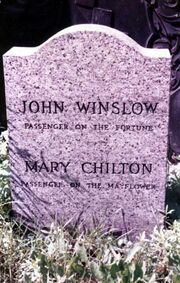 Mary Chilton (c1605-1679) married John Winslow (possibly on October 12, 1624). She arrived on the Mayflower in 1620 and was left orphan that year when both her parents died.
The family moved to Boston some time after the birth of Benjamin in 1653. There John Winslow is said to have prospered as a merchant.
They had ten children - All but Benjamin married, and Benjamin's birth is the only one listed in the records of Plymouth colony:
John
Susannah
Mary
Sarah Winslow (1639-1726) - md three times
Samuel
Joseph
Isaac,
an unnamed child who probably died in infancy
Benjamin.
Children
Offspring of John Winslow and Mary Chilton (c1605-1679)
Name
Birth
Death
Joined with
Mary Winslow (1628-1663)
15 April 1628 Plymouth, Plymouth County, Massachusetts
28 October 1663 Boston, Suffolk County, Massachusetts
Edward Gray (1629-1681)


Joseph Winslow (1628-1679)



Susanna Winslow (1630-1685)
1630 Plymouth, Plymouth County, Massachusetts
14 November 1645

East Bridgewater

, Plymouth County, Massachusetts
Robert Latham (1623-1688)

Edward Winslow (1634-1682)
1635 Plymouth, Plymouth County, Massachusetts
19 November 1682 Boston, Suffolk County, Massachusetts
Elizabeth Hutchinson (1639-1728)


John Winslow (1634-1683)



Sarah Winslow (1639-1726)
1639 Boston, Suffolk County, Massachusetts
1726 Boston, Suffolk County, Massachusetts
Myles Standish (1629-1661) Tobias Payne (1634-1666) Myles Standish (1629-1661) Tobias Payne (1634-1666) Richard Middlecott (1640-1704)


Samuel Winslow (1641-1680)
Siblings
#g1: Offspring of Edward Winslow (1560-1620) and

Eleanor Pelham (1564-1594)

Name
Birth
Death
Joined with

Richard Winslow (1585-1659)

,
,

Margaret Winslow (1589-1666)

,
,
#g2: Offspring of Edward Winslow (1560-1620) and Magdelene Oliver (1566-1631)
Name
Birth
Death
Joined with
Edward Winslow (1595-1655)
18 October 1595, Droitwich Spa, Worcestershire, England, United Kingdom
8 May 1655,

At Sea Near

, Jamaica
Elizabeth Barker (1597-1621)

+

Susanna White (1593-1680)
John Winslow (1597-1674)
26 April 1597, Worcestershire, England
1674, Boston, Suffolk County, Massachusetts
Mary Chilton (c1605-1679)

Eleanor Winslow (1598-1672)

,
,
Kenelm Winslow (1599-1672)
29 April 1599, Droitwich Spa, Worcestershire, England
12 September 1672, Salem, Essex County, Massachusetts
Eleanor Newton (1598-1681)
Gilbert Winslow (1600-1663)
29 October 1600, Baptism at St Peters Church, Droitwich, Shropshire, England, United Kingdom
11 October 1631, Ludlow, Shropshire, England, United Kingdom

Elizabeth Winslow (1602-1605)

,
,

Magdelene Winslow (1604-1693)

,
,
Josias Winslow (1606-1674)
11 February 1606, Droitwich, Worcestershire, England, United Kingdom
1 December 1674, Marshfield, Plymouth County, Massachusetts, United States
Margaret Bourne (1615-1683)

Mary Magdelene Winslow (1610-1687)

,
,
References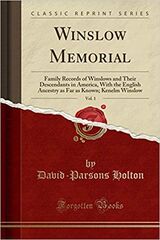 Residences
Footnotes (including sources)