Biography
Joseph Adair was born 11 April 1806 in Laurensville, Laurens County, South Carolina, United States to James Adair (1770-1840) and Rebecca Unknown Adair (c1775-) and died 20 April 1858 Washington, Washington County, Utah, United States of unspecified causes. He married Rebecca Frances Mangum (1814-1890) 1840 in Itawamba County, Mississippi.
Charles Coulson Rich (1809-1883) led a pioneer company of 126 individuals that consisted primarily of members of The Church of Jesus Christ of Latter-day Saints who were seeking refuge from religion persecution. Brother Rich was one of of the Apostles of the church. They left the Elkhorn River in Nebraska on 21 June 1847 and reached the Salt Lake Valley on 02 Oct 1847. The Adair Family was part of this company.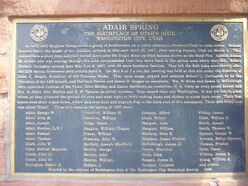 In 1857, a group of about 38 southerner families were called by Brigham Young (1801-1877) on to settle the Virgin River area of Southwest Utah and to crow cotton, to decrease the saints reliance on expensive product from back east. Other pioneer families joined them in 1861 but this ambitious endeavor came to an end after the close of the Civil War and cotton prices collapsed.
Children
Offspring of Joseph Adair and Rebecca Frances Mangum (1814-1890)
Name
Birth
Death
Joined with
Lucinda Jane Adair (1841-1918)
22 October 1841 Itawamba County, Mississippi, United States
9 December 1918 Los Angeles, Los Angeles County, California, United States
Benjamin Brown Crow (1819-1897) Oren Parker Sherwood (1840-1905) 

William Henry Throp (1843-1932)

 

Benjamin Brown Crow (1819-1897)

 Oren Parker Sherwood (1840-1905) 

William Henry Throp (1843-1932)

 

William Brobst (1835-1912)



Thomas Adair (1847-1860)
1847 Iowa, United States
Utah, United States


Margaret Adair (1848-1860)
1848 Salt Lake County, Utah, United States
Utah, United States


Joseph Newton Adair (1849-1850)
4 August 1849 Salt Lake City, Salt Lake County, Utah, United States
March 1850 Utah, United States


Rebecca Francis Adair (1852-1908)
10 April 1852 Provo, Utah County, Utah, United States
22 March 1908

Clifton

, Graham County, Arizona, United States
Jeremiah Stayner (1845-1918)
Siblings
Residences
References
Footnotes (including sources)