We're Getting Mutants in the MCU - The Loop
Play Sound
Rev Joseph Brewster was born 1816 in Windham, Windham County, Connecticut, United States to James Brewster (1788-1866) and Mary Heguembaurg (1789-1867) and died 1895 of unspecified causes. He married Sarah Jane Bunce (1820-1866) 15 September 1847 in Windham, Windham County, Connecticut.
Biography
Rev Joseph Brewster was graduated from Yale College in 1842, and the following year he was tutor in the family of Senator William Cabell Rives of Virginia.
Being led to study the position of the Episcopal Church he entered its ministry, studying in the General Theological Seminary at New York City, and at Hartford CT, with Dr. Burgess, later the bishop of Maine. He was first settled at Windham CT, and then at Wallingford CT.
In 1854 he returned to his native city, New Haven, to become rector of Christ Church, where he continued for twenty-eight years. At the beginning of his rectorship it was a small mission church, but under his charge it grew to be a strong and independent parish, a new church building was erected, missions were established, etc.
Owing to ill health he resigned in 1882, but officiated in various churches in Connecticut, Baltimore and Brooklyn, until, in 1894, he became the rector of Saint Michael's Church, Brooklyn, where he ministered with remarkable success and continued in active duty until within two days of his death.
The Reverend Joseph Brewster was a man of scholarly tastes, a forceful and earnest preacher, most impressive in his rendering of the services of the church, socially very charming, with great personal magnetism, brilliant wit, and a keen knowledge both of books and men.
Marriage and Family
Chauncey Bunce Brewster (1848-1941) - 5th Episcopal Bishop of Connecticut Diocese

Letitia Lockwood Brewster (1850-)

Mary Lockwood Brewster (1852-1892)

Rebecca Cone Brewster (1854-1939)

James Henry Brewster (1856-1920)

William Joseph Brewster (1858-1952)

- Episcopalian minister
Benjamin Brewster (1860-1941) - Episcopal Bishop of Maine and Missionary Bishop of Western Colorado.
Children
Siblings
Residences
References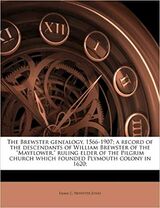 The Brewster Genealogy, 1566-1907 - a record of the descendants of William Brewster of the "Mayflower," ruling elder of the Pilgrim church which founded Hampshire colony in 1620;2 Volumes Paperback – September 7, 2010 by Emma C. Brewster Jones (Author). This is a reproduction of a book published before 1923.

Brewster in Windham County, Connecticut

- first families

Joseph Brewster

- disambiguation
Footnotes (including sources)