We're Getting Mutants in the MCU - The Loop
Play Sound
Biography
Joseph Hancock was born 18 March 1800 in Springfield, Hampden County, Massachusetts, United States to Thomas Hancock (1763-1844) and Amy Ward (1769-1847) and died 5 July 1893 Payson, Utah County, Utah, United States of unspecified causes. He married Betsey Johnson (1804-1831) 18 February 1823 in Canandaigua, Ontario County, New York, United States. He married Experience Wheeler (1792-1852) 22 March 1835 in Kirtland, Geauga County, Ohio, United States.
The following biographical sketch is adapted from the 1997-98 Church Almanac and from other sources.
Joseph Hancock was born March 18, 1800 at Springfield, Massachusetts to Thomas and Amy Ward Hancock. He was a brother of Levi Hancock.He married Betsey Johnson and they were baptized in Mayfield, Ohio in 1830. She died a few months after her baptism.
After Amy's death he moved to Kirtland, Ohio where he worked as a brick maker.
Zions Camp Participant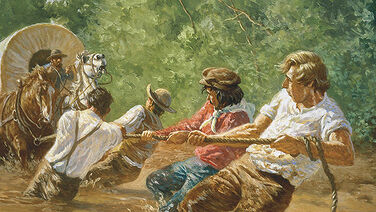 One of the most interesting episodes in the early history of LDS Church was the march of Zion's Camp (1834). The members of the Church in Missouri were being persecuted, and the Prophet Joseph made it a matter of prayer and received a revelation on February 24, 1834. The Lord instructed the Prophet to assemble at least one hundred young and middle-aged men and to go to the land of Zion, or Missouri. (See D&C 130:19–34.)
Zion's Camp, a group of approximately one hundred and fifty men, gathered at Kirtland, Ohio, in the spring of 1834 and marched to Jackson County, Missouri. By the time they reached Missouri, the camp had increased to approximately two hundred men.
He joined Zion's Camp in 1834 and as a sucessful hunter was dubbed "Nimrod" by Joseph Smith a nickname that stayed with him. He came down with cholera on the trip to Missouri, but was healed by the Prophet.
Joseph would march to Missouri with his brother, Levi Ward Hancock (1803-1882), both were ordained to the Quorum of Seventy of the church in the following year. At the time he was a widower, but he would marry the following year, Experience Wheeler (1792-1852), the widow of Erastus Harper Rudd (1787-1834), who died of the cholera in camp, leaving her with 13 minor children to raise.
As a result of his faithfulness in Zion's Camp he was ordained to the Seventy and called to the First Quorum of Seventy. It should be noted that although the revelations specifically name the First Quorum of the Seventy as a Council equal in authority with the First Presidency and the Twelve, they never functioned as General Authorities but rather as a traveling Missionary Corps.
Children
Offspring of Joseph Hancock and

Betsey Johnson (1804-1831)

Name
Birth
Death
Joined with

Solomon Hancock (1824-1853)

Joseph Johnson Hancock (1825-1857)

Clarissa Rhoda Hancock (1827-1837)

Agnus Cordelia Hancock (1829-1832)

Eli Hancock (1830-1867)
Siblings
Offspring of Thomas Hancock (1763-1844) and Amy Ward (1769-1847)

Name
Birth
Death
Joined with

Elijah Hancock (1786-1818)

Eliza Hancock (1788-1878)

Thomas Hancock (1788-1848)

Clarrissa Hancock (1790-1870)
3 September 1790

Longmeadow

, Hampden County, Massachusetts, United States
22 July 1870 Parowan, Iron County, Utah, United States
Samuel Alger (1786-1874)
Solomon Hancock (1793-1847)
14 August 1793 Springfield, Hampden County, Massachusetts, United States
2 December 1847 Council Bluffs, Pottawattamie County, Iowa, United States
Alta Adams (1795-1835)
Phoebe Adams (1811-1897)

Alvah Hancock (1796-1847)

Joseph Hancock (1800-1893)
18 March 1800 Springfield, Hampden County, Massachusetts, United States
5 July 1893 Payson, Utah County, Utah, United States

Betsey Johnson (1804-1831)


Experience Wheeler (1792-1852)
Levi Ward Hancock (1803-1882)
7 April 1803 Springfield, Hampden County, Massachusetts, United States
10 June 1882 Washington County, Utah, United States

Clarissa Reed (1814-1860)


Emily Melissa Richey (1830-1857)


Elizabeth Woodville Hovey (1835-1879)


Ann Tew (1835-1884)


Mary Morgan (1819-c1880)

Sarah Hancock (1806-1886)

Amy Hancock (1807-1809)
Vital Records
References
Residences
Footnotes (including sources)