Joseph Jacob Douse (1896-1985) was a West Virginia coal miner.
Birth
[
]
Joseph was born April 4, 1896, in Pennsylvania to Jonas Daukša (a.k.a. John Douse) and a woman by the name of Mary. Mary may or may not have been married to John at the time.
1900 Federal Census
[
]
In 1900, Joseph resided in Conyngham Township, Pennsylvania, with his father John Douse, his brother Charles Douse, a woman by the name of Mary (Wilkowska) Rice, and Mary Rice's son Joseph M. Rice and daughter Mary Rice. There is some speculation that Mary (Wilkowska) Rice may have been Joseph's mother, although it is unlikely, as Mary already had a son named Joseph Rice.
Departure of father John Douse
[
]
Joseph's father John Douse deserted the family some time around 1900, some time after which Joseph and his brother Charles went with their uncle Peter Douse to Raleigh County, West Virginia.
Military Service
[
]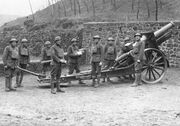 Joseph trained at Camp Bragg in North Carolina. Joseph's rank was 1st Sgt. Douse, Battalion B 21st F.a., 5th Division. Joseph led the Second Section Gun Squad.
Marriage to Anna
[
]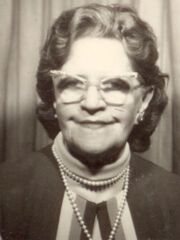 Around 1922, Joseph married a woman by the name of Anna. Anna was born around 1902 in Pennsylvania. It is believed that the marriage took place in West Virginia. Anna had a sister who married Peter Griggas. Peter Griggas was a brother of the Anne Griggas who married Joseph's nephew Charles Shotis.
Children by Anna
[
]
Joseph and Anna had a daughter named Valira Douse around 1923 in West Virginia. However, since both Pauline Shotis (wife of Joseph's cousin Charles Raymond Shotis ) and Kathleen Borland (daughter of Joseph's cousin Margaret Szczesny) both stated that they were under the impression that Joseph was childless, Valera is presumed to have died young. Valira was almost certainly not living when Joseph died in 1985, as Charles' neice Margaret tended to his estate, as she was said to be his closest living relative.
1930 Federal Census
[
]
Joseph was listed as a head of household in the 1930 census of Cranberry, Raleigh County, West Virginia. He was living with his wife Anna and daughter Valira.
Occupation
[
]
Joseph was a coal miner.
Death
[
]
Joseph died in August, 1985 in Beckley, Raleigh County, West Virginia.
Suggestions for further research
[
]
The next step in research Joseph's family is to learn the identity of Joseph's neice Margaret Rohani (?-), who is allegedly still living. She is said to have a lot of information on Joseph's branch of the Douse family. She may also have information regarding Joseph's brother Charles and his uncle Peter, since they all resided in Raleigh County, West Virginia. Also, Joseph's social security application has not yet been obtained.
Skating Rink
[
]