We're Getting Mutants in the MCU - The Loop
Play Sound
Joseph Robinette Biden, Sr. was born 13 November 1915 in Baltimore City, Baltimore County, Maryland, United States to Joseph Harry Biden (1893-1941) and Mary Elizabeth Robinette (1894-1943) and died 2 September 2002 Wilmington, New Castle County, Delaware, United States of unspecified causes. He married Catherine Eugenia (Jean) Finnegan (1917-2010) 30 May 1941 in Scranton, Lackawanna County, Pennsylvania, United States.
While he was still a boy, his family moved to Wilmington, Delaware where he attended St. Paul's School and Wilmington High School before graduating from St. Thomas Academy in Scranton, Penn., where the family was then residing.
During World War II, Mr. Biden was an executive in Boston, of a war industry that supplied "plastic hulls," a special waterproof sealant, applied to all U.S. merchant-marine ships built during the war.
Following the war, he was co-owner of an airport and crop-dusting service on Long Island, N.Y.
In 1953 he moved with his family to the Wilmington suburb of Mayfield in Claymont, Delaware, and returned to sales as manager for several Wilmington automobile agencies.
He then spent fifteen years working in real estate condominium sales in New Castle County and in Rehoboth Beach for the Patterson-Schwartz agency.
Throughout his working life and during his retirement, Mr. Biden shared with his wife, his three sons and daughter, his ten grandchildren, and his three great grandchildren a strong orientation to family life and personal integrity.
He valued his reputation as an honorable man and as a family man, and with his wife, he conveyed his values consistently to his children and their children. Both at home and in the business world, his word was his bond and he was proud of that
Marriage and Family
In 1941, Mr. Biden, while employed as a sales representative for Amoco Oil Company in Harrisburg, Penn., married Jean Finnegan of Scranton, Pennsylvania.
Joseph Robinette Biden, Jr. (1942) - 47th Vice President of the U.S. and 2020 President-elect,
Valerie Biden
James Biden
Frank Biden
Siblings
Children
Residences
Vital Records
Gravestone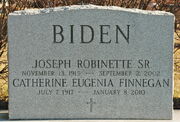 Saint Joseph on the Brandywine Cemetery Greenville, New Castle County, Delawarev
See Also
Joseph Biden Sr - Geni.com
Obituary for Joe Biden Sr - Newspapers.com
Ancestry.com. 1920 United States Federal Census [database on-line]. Provo, UT, USA: Ancestry.com Operations, Inc., 2010. Images reproduced by FamilySearch. Year: 1920; Census Place: Baltimore Ward 16, Baltimore (Independent City), Maryland; Roll: T625_660; Page: 32A; Enumeration District: 277. Image Online.
Ancestry.com. 1930 United States Federal Census [database on-line]. Provo, UT, USA: Ancestry.com Operations Inc, 2002. Year: 1930; Census Place: Wilmington, New Castle, Delaware; Page: 3A; Enumeration District: 0020; FHL microfilm: 2340024. Image Online.
Ancestry.com. 1940 United States Federal Census [database on-line]. Provo, UT, USA: Ancestry.com Operations, Inc., 2012. Year: 1940; Census Place: Scranton, Lackawanna, Pennsylvania; Roll: m-t0627-03687; Page: 9B; Enumeration District: 71-154. Image Online.
Ancestry.com. Pennsylvania, Marriages, 1852-1968 [database on-line]. Lehi, UT, USA: Ancestry.com Operations, Inc., 2016. Image Online.
Ancestry.com. U.S., Social Security Death Index, 1935-2014 [database on-line]. Provo, UT, USA: Ancestry.com Operations Inc, 2014. <link>
Ancestry.com. U.S., Social Security Applications and Claims Index, 1936-2007 [database on-line]. Provo, UT, USA: Ancestry.com Operations, Inc., 2015. <link>
Footnotes (including sources)