Judith Vassall White was born circa 1619 in Cold Norton, Essex, England to William Vassall (c1595-1657) and Anna King (c1595-1655) and died 3 April 1670 Plymouth, Plymouth County, Massachusetts of unspecified causes. She married Resolved White (1615-1687) 5 November 1640 in Scituate, Plymouth County, Massachusetts.
Biography
Daughter of William Vassall and Anna (King/Kinge) Vassall of Essex, England, later Plymouth County, Massachusetts, and finally Barbados.
Sister of Anna Vassall (who died in infancy), Frances (Vassall) Adams, Mary Vassall, Samuel Vassall (who died in infancy, twin of Mary), Colonel John Vassall, William Vassell Jr., Anna (Vassall) Ware, and Margaret (Vassall) Hubbard/Hobart.
Arrived in Massachusetts in 1635 aboard the "Blessing" along with her parents and siblings. Her father, a leader of the Massachusetts Bay Company, had made an earlier voyage to Massachusetts in 1630.
Marriage & Family
Wife of "Mayflower" passenger Resolved White Sr., whom she predeceased. Resolved and Judith were the parents of William White, Elizabeth (White) Wheeler, John White, Samuel White, Resolved White Jr., Anna (White) Hayward, Josiah White, and Susanna White.
Children
Offspring of Resolved White and Judith Vassall (1619-1670)
Name
Birth
Death
Joined with

William White (1642-1695)




John White (1644-1684)




Samuel White (1646-1720)




Resolved White (1647-1670)




Anna White (1649-1714)




Elizabeth White (1652-)




Josiah White (1654-1710)




Susannah White (1656-)
Siblings
Vital Records
Green Harbor Monument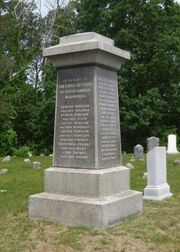 This person is listed in memorium on the Green Harbor Monument, located in Marshfield, Massachusetts and dedicated in honor of the early colonists from Plymouth Colony who settled this area in the early 1600s.
Residences
Footnotes (including sources)