Articles, images

Archaeology

 •

Landmarks

 •

Migrations and settlements

 •

Photo gallery

 •

Prehistory

 •

Timeline

People

Births

 •

Deaths

 •

Baptisms

 •

Marriages

 •

Divorces

 •

Burials

 •

Families

 •

Residents

Daily life

Before 1401

 •

1401-1450

 •

1451-1500

 •

1501-1550

 •

1551-1600

 •

1601-1650

 •

1651-1700

 •

1701-1750

 •

1751-1800

 •

1801-1850

 •

1851-1900

 •

1901-1950

 •

1951-2000

 •

2001-present

Research,
including
queries

Kheda district links

 •

Birth records

 •

Businesses

 •

Cemeteries

 •

Census data

 •

Church records

 •

Court records

 •

Death records

 •

Directories

 •

Landowner records

 •

Marriage records

 •

Maps

 •

Military records

 •

Obituaries

 •

Probate records

 •

Queries
This article is about the district. For its eponymous headquarters, see
Kheda
.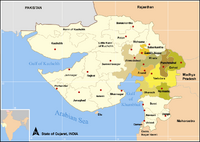 Kheda district (Gujarati: ખેડા જિલ્લો) is one of the 26 districts of Gujarat state in western India. Kheda city is the administrative headquarters of the district.
History
[
]
Kurmi/Kanbi Kshatriyas of Punjab established many villages in this area. Groups of Jats had settled here from Greater Punjab (including Rajesthan and modern day Haryana).[1]
Geography
[
]
It covers an area of 3,943 km². The district has over 600 villages. It is bounded by the districts of Gandhinagar and Sabarkantha to the north, Panchmahal to the east, Ahmedabad to the west, and Anand and Vadodara to the south.[2] Anand district was carved out of Kheda district on 2 October 1997.
Balasinor Fossil Park is one of the three largest dinosaur sites in the world.
Economy
[
]
The main crops include bajra, cotton and tobacco. Commerce in the district includes trade in cotton and tobacco. The district is home to a thermal power station, near Dhuvran.
Divisions
[
]
The major towns of the district include Kheda, Nadiad, Balasinor, and Dakor.
Demographics
[
]
According to the 2011 census Kheda district has a population of 2,298,934,[3] roughly equal to the nation of Latvia[4] or the US state of New Mexico.[5] This gives it a ranking of 197th in India (out of a total of 640).[3] The district has a population density of 541 inhabitants per square kilometre (1,400 /sq mi) .[3] Its population growth rate over the decade 2001-2011 was 12.81 %.[3] Kheda has a sex ratio of 937 females for every 1000 males,[3] and a literacy rate of 84.31 %.[3]
Culture
[
]
Dakor houses a temple of Lord Ranchodrai, a form of Krishna. The temple town of Vadtal comes within this district.
Notable personalities
[
]
Govardhanram Tripathi

(1855–1907) Novelist. Born in

Nadiad

.

Manilal Nabhubhai

(1858–1898) Writer and philosopher. Born in

Nadiad

.

Ravji Patel

(1939–1968) Modernist poet and novelist. Born in Vallavpura village.[6]
References
[
]
External links
[
]
Gandhinagar district

Sabar Kantha district

Ahmedabad district
Panchmahal district
     
Kheda district
Anand district
Vadodara district
 State

of

Gujarat

Major corporations

Ahmedabad

Surat

Vadodara

Rajkot

Jamnagar

Bhavnagar

Junagadh

Navsari

Surendranagar

Udhana

Mehsana

Anand

Bharuch

Districts
Villages
Topics
Major projects of Gujarat

Ahmedabad BRTS

Gujarat International Finance Tec-City

Sabarmati Riverfront Development Project

Sardar Sarovar Project

GSWAN

Regions of Gujarat

Bhal region

Kathiawad region

Gujarat Region

Sorath Region

Gohilwad region

Zhalawad region

Charotar region

Ghed region