We're Getting Mutants in the MCU - The Loop
Play Sound
This page collects information about people with surname "Knight" who were known or believed to have lived in Washington County, Utah.
Notable Individuals
Notable Landmarks
St George Temple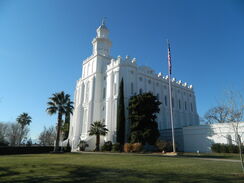 The St. George Utah Temple (formerly the St. George Temple) of The Church of Jesus Christ of Latter-day Saints (LDS Church) in St. George, Utah. Completed in 1877, it was the church's third temple completed, but the first in Utah, following the migration west of Mormon pioneers from Nauvoo, Illinois, following the death of the church's founder, Joseph Smith (1805-1844). It has been the place for marriages and temple ordinances for many LDS families in the area.
See Also
:Note, for the following tables, that there may be more than one county or district of this name and that some contributors may have entered a different (possibly shorter and/or ambiguous) name when this one was meant. Search for similar names to get a more complete result. Common abbreviations are "Co." and "Cty", but there may have been no word for "county" (or equivalent) included, or such a word may have been wrongly included.
Familypedia people with surname Knight in Washington County, Utah

Readers can sort columns using the triangles at top.
Born in Washington County, Utah
Baptised in Washington County, Utah
Married in Washington County, Utah
See also

Category:Married in Washington County, Utah
Grouping is for "first marriage", "second marriage", etc as indicated in column headings
|   | Birth place | Baptism place | Wedding1 date | Wedding1 place | Joined with-g1 |
| --- | --- | --- | --- | --- | --- |
| Joseph Ether Knight (1840-1878) | Nauvoo, Hancock County, Illinois, United States | | 17 February 1863 | Santa Clara, Washington County, Utah | Jane Lucinda Judd (1849-1918) |
| Lenora Knight (1862-1913) | Santa Clara, Washington County, Utah, United States | | 10 February 1887 | St. George, Washington County, Utah, United States | John Hafen (1862-1946) |
Died in Washington County, Utah
See also

Category:Died in Washington County, Utah
Buried in Washington County, Utah