Jurassic World: Dominion Dominates Fandom Wikis - The Loop
Play Sound
Articles, images
People

Births

 •

Deaths

 •

Baptisms

 •

Marriages

 •

Divorces

 •

Burials

 •

Families

 •

Residents

Daily life

Before 1700

 •

1700-1749

 •

1750-1799

 •

1800-1819

 •

1820-1839

 •

1840-1859

 •

1860-1879

 •

1880-1899

 •

1900-1919

 •

1920-1939

 •

1940-1959

 •

1960-1979

 •

1980-1999

 •

2000-present

Research,
including queries

Knox County, Tennessee links

 •

Birth records

 •

Businesses

 •

Cemeteries

 •

Census data

 •

Census records

 •

Church records

 •

Court records

 •

Death records

 •

Directories

 •

Landowner records

 •

Marriage records

 •

Maps

 •

Military records

 •

Obituaries

 •

Probate records

 •

Queries
Knox County

,

Tennessee

Knox County Courthouse


Seal


Location in the state of Tennessee

Tennessee's location in the U.S.
Founded
June 11, 1792
Seat
Knoxville
Area
 - Total
 - Land
 - Water

526 sq mi (1,362 km²)
508 sq mi (1,316 km²)
17 sq mi (44 km²), 3.29%
Population
 - (

2020

)
 - Density

478,971
751/sq mi (290/km²)
Website
www.knoxcounty.org
Knox County is a county in the U.S. state of Tennessee. As of the 2020 census the population was 478,971. Its county seat is Knoxville,[1] as it has been since the creation of the county. The county is at the geographical center of the Great Valley of East Tennessee. Near the heart of the county is the origin of the Tennessee River at the union of the Holston and French Broad Rivers.
The county is included in the Knoxville Metropolitan Area.
History
[
]
Knox County was created on June 11, 1792 by Governor William Blount from parts of Greene and Hawkins counties, and has the distinction of being one of only eight counties created during territorial administration. It is one of nine United States counties named for Revolutionary War general and first United States Secretary of War Henry Knox. Parts of Knox County later became Blount (1795), Anderson (1801), Roane (1801), and Union (1850) counties.
In 1786 James White built a fort five miles (8 km) below the junction of the French Broad and Holston Rivers on the southernmost edge of frontier settlement in present-day East Tennessee. William Blount, governor of the Territory of the United States South of the River Ohio, selected the site of James White's Fort as the territorial capital in 1791. He gave it the name Knoxville in honor of his direct superior as territorial governor, Revolutionary War hero General Henry Knox (1750–1806), who served as the first U.S. Secretary of War from 1785 to 1794.
Governor Blount designated Knoxville as the capital of the Territory South of the River Ohio from 1791 to 1796. Knoxville also served as the capital of the State of Tennessee from 1796 to 1812, with the exception of one day in 1807, when the legislature met in Kingston to fulfill a treaty obligation with the Cherokee, and briefly again in 1817-18. Frontier leader General John Sevier, a resident of Knox County, served as governor of Tennessee from 1796 to 1801 and 1803 to 1809, most of Knoxville's years as the state capital. Since no state capitol building was constructed until 1845, when work began on the capitol building in Nashville, the general assembly met in taverns and public buildings. The William Blount Mansion (1792), the home of Territorial Governor Blount, is the most historically significant dwelling surviving in Knox County from the pre-statehood era. It is the only National Historic Landmark in the county.
The Civil War
[
]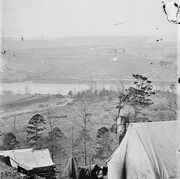 Knox County's strategic location along important railroad lines made it an area coveted by both Union and Confederate forces throughout the Civil War. Since the mountainous terrain of East Tennessee was mostly unsuitable for plantation crops such as cotton, slavery was not as prevalent as it was in Middle and West Tennessee - an 1860 census of Knox County showed a population of 20,020 white citizens and just 2,370 enslaved African Americans.[2] The lack of slavery combined with the vestiges of a once strong abolitionist movement in the region were two of the reasons that Knox County, along with much of East Tennessee, contained a great deal of pro-Union sentiment. However, there were family and other social ties which contributed to strong pro-Confederate sentiment as well. East Tennessee saw many of the "brother vs. brother" conflicts.
Prior to secession, Unionists from Knox County collaborated with other East Tennessee Unionists in an attempt to secede from Tennessee itself and remain part of the Union. O.P. Temple of Knox County was named to a 3-person commission that was to appear before the General Assembly in Nashville and request the secession of East Tennessee and pro-Union Middle Tennessee counties from the state.[3] The attempt failed. Knox County joined the Confederacy along with the rest of Tennessee after the second referendum for secession in 1861.[4]
Knox County remained under Confederate control until September 3, 1863, when General Ambrose Burnside and the Union army marched into Knoxville unopposed. Union Colonel William Harris, son of New York Senator Ira Harris, sent his father this message[2] in regards to Knox County's capture:
| | | |
| --- | --- | --- |
| " | 'Glory be to God, the Yankees have come! The flag's come back to Tennessee!' Such were the welcomes all along the road, as we entered Knoxville, it was past all description. The people seemed frantic with joy. I never knew what the Love of Liberty was before. The old flag has been hidden in mattresses and under carpets. It now floats to the breeze at every staff in East Tennessee. Ladies wear it -- carry it -- wave it! Little children clap their hands and kiss it. | " |
With the success of Burnside's troops during the Knoxville Campaign, and especially during the decisive Battle of Fort Sanders, Knox County remained under Union control for the duration of the Civil War.
Government and politics
[
]
Like most counties in heavily Unionist East Tennessee, Knox County has historically been strongly Republican. Although it is somewhat conservative for an urban county, it is slightly less Republican than the rest of East Tennessee. This is largely due to the influence of Knoxville, which has elected Democratic mayors and occasionally sends Democrats to the state legislature.
Presidentially, Franklin Roosevelt carried the county in three of his four presidential bids, while neighboring Blount and Grainger counties are among the only counties in the nation to have never supported a Democratic candidate for president in their entire existence. Nevertheless, Democratic candidates have crossed the 40-percent mark only seven times since Roosevelt's death. In 1964, it was nearly swept up in Lyndon Johnson's national landslide; Johnson lost the county by only 334 votes. Jimmy Carter in 1976 and Bill Clinton in 1992 and 1996 are the only Democrats since then to come reasonably close to carrying the county, losing it by single-digit margins; in Clinton's case with Tennessean Al Gore on the ticket. Gore lost the county by 17 points in 2000 during his own bid for president, but still managed 40 percent. The Democrats would not cross the 40 percent threshold again until 2020, when Joe Biden received over 41 percent of the county's vote.[5]
United States presidential election results for Knox County, Tennessee

[5]
Year

Republican

Democratic

Third party

No. 
%
No. 
%
No. 
%

2020

124,540
56.47%
91,422
41.45%
4,594
2.08%

2016

105,767
58.53%
62,878
34.80%
12,052
6.67%

2012

109,707
63.60%
59,399
34.43%
3,401
1.97%

2008

113,015
60.73%
70,215
37.73%
2,856
1.53%

2004

110,803
62.10%
66,013
37.00%
1,603
0.90%

2000

86,851
57.68%
60,969
40.49%
2,766
1.84%

1996

70,761
50.53%
61,158
43.67%
8,126
5.80%

1992

66,607
46.75%
59,702
41.90%
16,167
11.35%

1988

73,092
63.27%
41,829
36.21%
600
0.52%

1984

76,965
63.61%
43,448
35.91%
574
0.47%

1980

66,153
56.26%
45,634
38.81%
5,798
4.93%

1976

56,013
50.73%
53,034
48.03%
1,362
1.23%

1972

64,747
71.56%
24,076
26.61%
1,661
1.84%

1968

47,202
52.44%
24,528
27.25%
18,277
20.31%

1964

42,797
50.20%
42,463
49.80%
0
0.00%

1960

50,811
61.00%
31,990
38.40%
499
0.60%

1956

46,167
60.09%
29,768
38.74%
896
1.17%

1952

44,358
62.32%
26,681
37.48%
139
0.20%

1948

21,074
53.77%
15,946
40.68%
2,176
5.55%

1944

20,742
52.58%
18,482
46.85%
228
0.58%

1940

13,877
40.45%
20,226
58.96%
201
0.59%

1936

12,183
37.93%
19,837
61.76%
100
0.31%

1932

9,774
46.71%
10,755
51.39%
398
1.90%

1928

14,627
71.55%
5,767
28.21%
49
0.24%

1924

10,709
56.41%
6,935
36.53%
1,340
7.06%

1920

12,005
63.41%
6,801
35.93%
125
0.66%

1916

5,791
57.27%
4,214
41.68%
106
1.05%

1912

1,984
19.86%
4,069
40.73%
3,938
39.42%

1908

5,817
56.56%
4,090
39.77%
378
3.68%

1904

4,309
55.61%
3,196
41.25%
243
3.14%

1900

3,982
46.35%
4,389
51.08%
221
2.57%

1896

6,243
59.83%
4,020
38.52%
172
1.65%

1892

4,182
49.11%
3,987
46.82%
347
4.07%

1888

6,123
59.12%
3,929
37.94%
305
2.94%

1884

5,248
59.11%
3,481
39.21%
149
1.68%

1880

4,361
58.18%
3,119
41.61%
16
0.21%

The government of Knox County, Tennessee operates under a home rule format. The county administrator, formerly known as the County Executive, is called the County Mayor. There is also an elected county commission, which consists of 11 members. Knox County is divided into nine commission districts, with one commissioner elected from each district. Two commissioners are elected countywide and serve as at-large representatives. The county commissioners' districts do not correspond with those of the city of Knoxville, which has its own mayor and city council. Residents of the county living within Knoxville city limits vote both in city and in county elections, are represented by city and county mayors, and pay city and county taxes. While the administration appears to be duplicated, services tend to be separated. Knox County runs the local school and library systems. Knoxville maintains a police department independent of the county sheriff. The property assessor's office, tax offices, and the Metropolitan Planning Commission are combined between the city and county governments. All Knox County elections are conducted on a partisan basis.[6]
Executive branch
[
]
The county mayor is the head of the executive branch of Knox County Government. The current county mayor is Glenn Jacobs, better known by his WWE identity of Kane. According to the county's charter, the mayor is the chief financial officer of the county, which includes developing the county's annual budget, approving county contracts, etc. Other responsibilities of the county mayor's office include maintaining county roads, highways and bridges, codes enforcement and operating the county's health department and library system.[6]
The mayor has the authority to veto resolutions and ordinances passed by the Knox County Commission. A majority-plus-one vote is required to override a mayoral veto, unless the vetoed legislation was required to have a two-thirds vote for original passage. In such cases, a two-thirds vote of the commission is required to override the veto.[6]
Executive branch departments
Finance

Purchasing
Community Development

Engineering & Public Works

Highway Engineering
Highway Maintenance
Stormwater Management
Codes Enforcement
Solid Waste & Recycling
Fire Prevention Bureau

Probation
Risk Management & Human Resources
Veterans Services
Senior Services
Health Department
Knox County Public Library
Constituent Services
Communications
Information Technology
Legislative branch
[
]
The Knox County Board of Commissioners is the legislative body of Knox County and consists of 11 members: nine elected at the district level and two elected countywide to serve at-large.[7] Commissioners meet multiple times each month, with their primary business meetings being a monthly work session and a monthly voting meeting. During the work session, commissioners generally debate items on the monthly agenda and take a non-binding vote on each item in advance of the more formal voting meeting, which is generally held the following week.[6]
The Board of Commissioners approves resolutions, ordinances, honorariums, road names, as well as most county contracts and large expenditures. Resolutions require a single vote for passage, while ordinances require two votes, or "two readings". The County Commission also serves as the appropriating body of the county and must approve an annual budget – presented by the mayor – which includes funding for the various county departments, including the Knox County Schools. The body also sets the property tax rate for the county.[6]
Sheriff
[
]
The Knox County Sheriff serves as the top law enforcement office of the county, and is elected countywide. The sheriff is responsible for overseeing the county jail, providing courtroom officers, serving warrants and providing general law enforcement functions, such as patrol and criminal investigation.
Controversies
[
]
On February 11, 2017, Brandon Lambert was wanted on multiple warrants for property crimes. Sheriffs Deputies shot him to death in a Turkey Creek parking lot after, allegedly, his vehicle moved towards them. He was unarmed. There is no video of the shooting or the alleged movement of the vehicle. Knoxville Police Department investigated the incident and cleared all deputies.[8]
On July 27, 2019, Johnathan Binkley, age 35, died after being hogtied face down for four minutes. At least seven law enforcement officers were present at the time of death. Binkley was pronounced dead within an hour of being stopped.[9] Binley's mother is suing the Sheriff's department.[10]
Geography
[
]
According to the U.S. Census Bureau, the county has a total area of 526 square miles (1,362.3 km2), of which 508 square miles (1,315.7 km2) is land and 17 square miles (44.0 km2) (3.29%) is water.
Cherokee Caverns
Cherokee Caverns is located 14 miles west of Knoxville on Highway 62. It was discovered in 1854 by Robert Crudgington who noticed fog emerging between rocks on his farm. He dug the entrance open and explored the cave. His daughter Margaret Crudgington opened the cave to the public in 1929 under the name Gentrys Cave, then changed the name to Grand Caverns in 1930. The cave has been open to the public, sporadically, ever since, under a variety of names. The name currently in use is Cherokee Caverns.[11]
Indian artifacts located in the cave indiate that another entrance to the cave existed at some time in the past.[11]
Major highways
[
]
Interstate highways
[
]
Interstate 40

Interstate 140

Interstate 640

Interstate 75

Interstate 3

(Proposed)
U.S. Highways
[
]
U.S. Routes 11

,

11E

, and

11W

U.S. Route 25W

U.S. Route 70

(

Kingston Pike

)

U.S. Route 129

U.S. Route 441
State Routes
[
]
Tennessee State Route 1

(Kingston Pike, Cumberland Avenue, Magnolia Avenue, and Rutledge Pike) – follows United States Routes

70

and

11

(

11W

when it splits in the east part of the county)

Tennessee State Route 9

(Clinton Highway, Asheville Highway) – follows United States Routes

25W

, and additionally in the eastern part of the county, U.S. Routes

70

and

11E

Tennessee State Route 33

(Maryville Pike, Chapman Highway, Henley Street, Broadway, Maynardville Highway)

Tennessee State Route 34

(Andrew Johnson Highway)

Tennessee State Route 61

(Washington Pike and East Emory Road)

Tennessee State Route 62

(Oak Ridge Highway and Western Avenue)

Tennessee State Route 71

(Chapman Highway, Henley Street, Broadway, Norris Freeway) – follows

U.S. Route 441

Tennessee State Route 115

(Alcoa Highway) – follows

U.S. Route 129

Tennessee State Route 131

(Lovell Road, Ball Camp-Byington Road, Beaver Ridge Road, Emory Road, and Tazewell Pike)

Tennessee State Route 158

(Neyland Drive and James White Parkway)

Tennessee State Route 162

(Pellissippi Parkway)

Tennessee State Route 168

(Gov. John Sevier Highway)

Tennessee State Route 169

(Middlebrook Pike)

Tennessee State Route 170

(Raccoon Valley Road)

Tennessee State Route 331

(Tazewell Pike and Emory Road)

Tennessee State Route 332

(Concord Road and Northshore Drive)

Tennessee State Route 475

(a proposed bypass for

I-75

)
Mass Transportation
[
]
Knoxville Area Transit provides city bus service, while McGhee Tyson Airport features a variety of regional flights to Midwestern and Southern cities.
Adjacent counties
[
]
Demographics
[
]
As of the census[13] of 2000, there were 382,032 people, 157,872 households, and 100,722 families residing in the county. The population density was 751 people per square mile (290/km²). There were 171,439 housing units at an average density of 337 per square mile (130/km²). The racial makeup of the county was 88.10% White, 8.63% Black or African American, 0.26% Native American, 1.29% Asian, 0.03% Pacific Islander, 0.50% from other races, and 1.18% from two or more races. 1.26% of the population were Hispanic or Latino of any race.
There were 157,872 households out of which 28.50% had children under the age of 18 living with them, 49.80% were married couples living together, 10.90% had a female householder with no husband present, and 36.20% were non-families. 29.60% of all households were made up of individuals and 9.10% had someone living alone who was 65 years of age or older. The average household size was 2.34 and the average family size was 2.92.
In the county, the population was spread out with 22.30% under the age of 18, 11.60% from 18 to 24, 30.40% from 25 to 44, 23.10% from 45 to 64, and 12.70% who were 65 years of age or older. The median age was 36 years. For every 100 females there were 93.50 males. For every 100 females age 18 and over, there were 90.10 males.
The median income for a household in the county was $37,454, and the median income for a family was $49,182. Males had a median income of $35,755 versus $25,140 for females. The per capita income for the county was $21,875. About 8.40% of families and 12.60% of the population were below the poverty line, including 14.50% of those under age 18 and 9.70% of those age 65 or over.
Cities, communities, and places
[
]
Cities and towns
[
]
Unincorporated communities
[
]
Ball Camp

Bluegrass

Byington

Carter

Concord

Corryton

Gibbs

Halls Crossroads

Hardin Valley

Heiskell

Karns

Kimberlin Heights

Mascot

Mt. Olive

Pedigo

Plainview

Powell

Ramsey

Ritta

Riverdale

Skaggston

Solway

Strawberry Plains

Thorn Grove
See also
[
]
National Register of Historic Places, Knox County, Tennessee

Knox County Schools
References
[
]
History of Tennessee From the Earliest Time to the Present: Together With an Historical and a Biographical Sketch of From Twenty-five to Thirty Counties of East Tennessee. (The Goodspeed Publishing Co., Chicago & Nashville), 1887.
Rothrock, Mary U., editor. The French Broad-Holston Country: A History of Knox County, Tennessee. (Knox County Historical Committee; East Tennessee Historical Society, 1946).
External links
[
]
Municipalities and communities of

Knox County, Tennessee

,

United States

City

Town
Unincorporated
communities

Concord | Corryton | Halls Crossroads | Karns | Mascot | New Hopewell | Powell | Solway | Strawberry Plains‡

Footnotes

‡This populated place also has portions in an adjacent county or counties
Coordinates: 35°59′N 83°56′W / 35.99, -83.94