Articles, images

Archeology

 •

Farms

 •

Landmarks

 •

Migrations and settlements

 •

Photo gallery

 •

Prehistory

 •

Timeline

People

Births

 •

Deaths

 •

Baptisms

 •

Marriages

 •

Divorces

 •

Burials

 •

Families

 •

Residents

Daily life

Before 1700

 •

1700-1749

 •

1750-1799

 •

1800-1819

 •

1820-1839

 •

1840-1859

 •

1860-1879

 •

1880-1899

 •

1900-1919

 •

1920-1939

 •

1940-1959

 •

1960-1979

 •

1980-1999

 •

2000-present

Research,
including queries

Kodiak Island Borough, Alaska links

 •

Birth records

 •

Businesses

 •

Cemeteries

 •

Census data

 •

Census records

 •

Church records

 •

Court records

 •

Death records

 •

Directories

 •

Landowner records

 •

Marriage records

 •

Maps

 •

Military records

 •

Obituaries

 •

Probate records

 •

Queries
Kodiak Island Borough

,

Alaska


Location in the state of Alaska

Alaska's location in the U.S.
Founded
1963
Seat

Kodiak

Area
 - Total
 - Land
 - Water

12,024 sq mi (31,142 km²)
6,560 sq mi (16,990 km²)
5,464 sq mi (14,152 km²), 45.44%
Population
 - (2000)
 - Density

13,913
3/sq mi (1/km²)
Website
www.kodiakak.us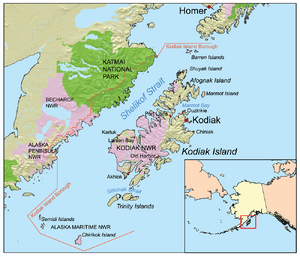 Kodiak Island Borough is a borough located in the state of Alaska, United States. As of the 2000 census, the population is 13,913. The borough seat is Kodiak.
Geography
[
]
The borough has a total area of 31,141 km² (12,024 sq mi). 16,990 km² (6,560 sq mi) of it is land and 14,151 km² (5,464 sq mi) of it (45.44%) is water. Most of the land area belongs to Kodiak Island, but a thin strip of coastal area on mainland Alaska and a few other nearby islands are also in the borough. The waterway between the island and mainland is known as the Shelikof Strait. South of the island are the open waters of the Pacific Ocean, so the site is considered good for launching certain types of satellites. The Kodiak Launch Complex is ideal for putting satellites in Molniya and polar orbits.
Adjacent boroughs and census areas
[
]
Demographics
[
]
As of the census2 of 2000, there were 13,913 people, 4,424 households, and 3,256 families residing in the borough. The population density was 1/km² (2/sq mi). There were 5,159 housing units at an average density of 0/km² (1/sq mi). The racial makeup of the borough was 59.69% White, 0.96% Black or African American, 14.58% Native American, 16.04% Asian, 0.79% Pacific Islander, 2.78% from other races, and 5.16% from two or more races. 6.10% of the population were Hispanic or Latino of any race. 13.10% reported speaking Tagalog at home, while 5.28% speak Spanish [1].
There were 4,424 households out of which 45.90% had children under the age of 18 living with them, 59.70% were married couples living together, 8.80% had a female householder with no husband present, and 26.40% were non-families. 19.90% of all households were made up of individuals and 3.70% had someone living alone who was 65 years of age or older. The average household size was 3.07 and the average family size was 3.52.
In the borough the population was spread out with 32.40% under the age of 18, 8.30% from 18 to 24, 34.00% from 25 to 44, 20.40% from 45 to 64, and 4.80% who were 65 years of age or older. The median age was 32 years. For every 100 females there were 112.40 males. For every 100 females age 18 and over, there were 117.40 males.
Cities and towns
[
]
External links
[
]
Kodiak Island Public Access Atlas (Alaska DNR)
 State

of

Alaska

Topics

Index

Geography

Climate

Wildlife

People

Transportation

Government

Delegations

Music

Visitor attractions

Society

Culture

Crime

Demographics

Economy

Education

Health

(

Rural dentistry

)

Politics

Regions

Aleutian Islands

Arctic Alaska

Bush Alaska

Inside Passage

Interior

Kenai Peninsula

Mat‑Su Valley

North Slope

Southeast

Seward Peninsula

Southcentral

Southwest

Tanana Valley

Yukon–Kuskokwim Delta

Largest cities

Boroughs

Juneau

Kodiak Island

Skagway

Wrangell

Unorganized

Census Areas

Aleutians West

Bethel

Dillingham

Hoonah‑Angoon

Nome

Petersburg

Prince of Wales‑Hyder

Southeast Fairbanks

Valdez‑Cordova

Wade Hampton

Yukon‑Koyukuk
Coordinates: 57°43′N 153°47′W / 57.71, -153.78