Lambert Chenery was born 1593 in England and died 30 January 1673 Dedham, Norfolk County, Massachusetts of unspecified causes. He married Sarah Boylston 1636 in Massachusetts.
Research Notes
Watertown Founders Monument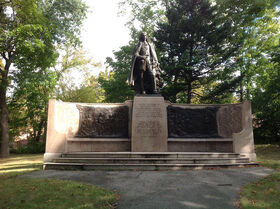 He is listed on Watertown Founders Monument, commemorating the first settlers of Watertown, Massachusetts. The town was first known as Saltonstall Plantation, one of the earliest of the Massachusetts Bay Colony settlements. Founded in early 1630 by a group of settlers led by Richard Saltonstall and George Phillips, it was officially incorporated that same year. The alternate spelling "Waterton" is seen in some early documents.
Marriage and Family
Children
Siblings
Research Notes
Vital Records
References
Residences
Footnotes (including sources)