Biography
Laura Altha Gibson Andrus was born 27 June 1837 in Monroe County, Mississippi to George Washington Gibson (1800-1871) and Mary Ann Sparks (1802-1871) and died 4 July 1905 St. George, Washington County, Utah of unspecified causes. She married James Andrus (1835-1914) 11 March 1857 in Big Cottonwood, Salt Lake County, Utah.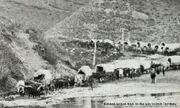 Numbered amoung the participants in the Mississippi Saints 1846 Pioneer Company, a early Mormon pioneer wagon train that left Mississippi in 1846 to join the Mormon exodus to Utah. This group Brigham Young's vanguard company and spent the winter of 1846/47 at Fort Pueblo where the were joined by soldiers of the sick detachment of the Mormon Battalion. They reached Salt Lake City in late summer of 1847.
This person was is listed on the Encampment Mall Memorial - a list of over 300 LDS Pioneer Families that helped to settle St. George, Utah in 1861. They were part of the "Dixie Cotton Mission" called by President Brigham Young to raise cotton and other southern crops in the warmer climate of Washington County, Utah.
Children
Siblings
Residences
Footnotes (including sources)