Jurassic World: Dominion Dominates Fandom Wikis - The Loop
Play Sound
Biography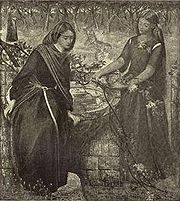 Leah (Weary.) Eldest daughter of Laban. She became Jacob's wife through a trick of Laban's, who passed her off as his daughter Rachel; being veiled, the mistake was not discovered till after the marriage had taken place (Gen. 29). She became the mother of six sons and one daughter (Gen. 29:30–32; 30:17–21; see also 31:4, 14, 33; 33:1–2, 7; 35:23, 26; 49:31).
Laban's Family
Laban welcomed his nephew, Jacob as a young man, and set him the stipulation of seven years' labour before he permitted him to marry his daughter Rachel. Laban tricked Jacob into marrying his elder daughter Leah instead. Jacob then took both women as wives. The dealings between the two branches are described in Gen. 24; 27:43–31:55. Jacob lived with him and served him for 20 years.
Laban and his family were described as dwelling in Paddan Aram, in Mesopotamia. Though the biblical text itself does not attest to this, Rabbinic sources also identify him as the father of Bilhah and Zilpah. Bilhah and Zilpah were maids of Leah and Rachel and also concubines with whom Jacob had children (Midrash Raba, Gen 24).
Genesis 29 Narrative
Jacob meets Rachel at the well—He serves Laban seven years for her—Laban gives to Jacob first Leah then Rachel in marriage—Jacob serves another seven years—Leah bears Reuben, Simeon, Levi, and Judah. Genesis 29.
Genesis 30 Narrative
Jacob marries Bilhah, and she bears Dan and Naphtali—He marries Zilpah, and she bears Gad and Asher—Leah bears Issachar and Zebulun and a daughter, Dinah—Then Rachel conceives and bears Joseph—Jacob works for Laban for wages of cattle and sheep.Genesis 30.
Children
Siblings
References
Footnotes (including sources)