Jurassic World: Dominion Dominates Fandom Wikis - The Loop
Play Sound
Chair of the Senate Republican Conference (1957-1967)
U.S. Senator from Massachusetts (1945-1967)
55th Governor of Massachusetts (1939-1945)
Speaker of the Massachusetts House of Representatives (1929-1937)
Massachusetts House of Representatives (1922-1937)
U.S. Army Veteran of World War I
Biography
[
]
Gov. Leverett Saltonstall was born 1 September 1892 in Boston, Suffolk County, Massachusetts, United States to Richard Middlecott Saltonstall (1857-1922) and Eleanor Brooks (1867-1961) and died 17 June 1979 Salem, Essex County, Massachusetts, United States of unspecified causes. He married Alice Wesselhoeft (1893-1981) 27 June 1916 in Jaffrey, Cheshire County, New Hampshire.
Gov. Leverett A. Saltonstall was an American lawyer and politician from Massachusetts. He served three two-year terms as the 55th Governor of Massachusetts, and for more than twenty years as a United States Senator (1945–1967). Saltonstall was internationalist in foreign policy and moderate on domestic policy, serving as a well-liked mediating force in the Republican Party. He was the only member of the Republican Senate leadership to vote for the censure of Joseph McCarthy.
Leverett Saltonstall died of congestive heart failure in 1979 aged 86, and is buried in Harmony Grove Cemetery in Salem, Massachusetts. The Saltonstall Building in downtown Boston is named for him.
Marriage and Family
[
]
Saltonstall married Alice Wesselhoeft (1893–1981) of Jaffrey, New Hampshire, in 1916, while still in law school. Together they had six children:
Leverett Saltonstall (1917-1966)

Rosalie Saltonstall (1919-1920)

- died young

Emily Bradley Saltonstall (1920-2006)

- at one time the daughter-in-law of Richard Byrd and a former WAVE;
Peter Brooks Saltonstall (1921-1944) - killed in action on Guam in 1944;

William Saltonstall (1928-2009)

- a member of the Massachusetts Senate;

Susan Saltonstall (1930-1994)

- a successful horse breeder.
Children
Siblings
[
]
Residences
Vital Records
[
]
Harmony Grove Gravestone
[
]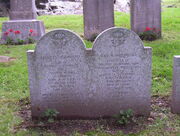 See Also
[
]