We're Getting Mutants in the MCU - The Loop
Play Sound
Biography
Lorenzo Dow Booth was born 13 October 1807 in Scipio, Cayuga County, New York, United States to John Calvin Booth (1773-1852) and Tryphena Perkins (1769-1854) and died 2 January 1847 Keosauqua, Van Buren County, Iowa, United States of unspecified causes. He married Parthenia Works (1811-1893) 1828 in New York, United States.
He was an early convert to The Church of Jesus Christ of Latter-day Saints. He lived in Kirtland and Nauvoo. He was part of Zion's Camp and was ordained into the First Quorum of the Seventy.
He may have died in Nauvoo, Illinois or Iowa in about 1849. (Some sources state 1847. Also, some sources say son Harrison Lorenzo Boothe was born in 1847 and some say 1849.) It is said Lorenzo died of hypothermia as the result of an accident relating to him falling into a body of water.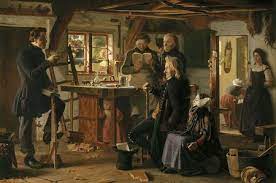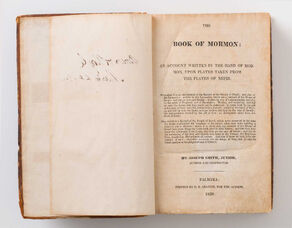 The 1830's saw a great Protestant religious revival sweep across the United States that was called the "Second Great Awakening" and was characterized by much emotional preaching, spiritual and social reform movements and a surge in membership growth for a great many Christian denominations.
This period also saw the rise of a new Church of Christ that was organized in early 1830 by its young prophet-leader, Joseph Smith (1805-1844), and after 1838 was formally named The Church of Jesus Christ of Latter-day Saints. This church group was frequently called the "Mormon Church" or "Latter-day Saints" (LDS) for its belief in a new set of holy scriptures called "The Book of Mormon". For better or worse, this new religion generated a lot of attention in this region.
Missionaries of this church taught that it was not a reform movement or protest movement but a "restoration" of the original church with completeness of the full of doctrine of the gospel of Jesus Christ including the ministering of angels, the restored priesthood, lost scripture, revelations, prophecy, living apostles, the gifts of the spirit and much more. This message had profound impact on many who subsequently left all to follow the Prophet and the Church. In many cases their faith was so strong as to push these early converts to endure many difficult hardships and sacrifices and to eventually journey over a thousand miles westward to settle in the Great Salt Lake Valley. (See also New Religion (LDS 1830).)[1][2]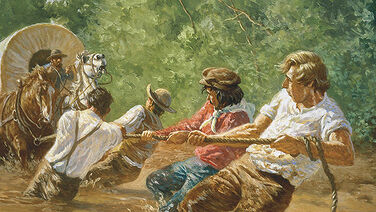 One of the most interesting episodes in the early history of LDS Church was the march of Zion's Camp (1834). The members of the Church in Missouri were being persecuted, and the Prophet Joseph made it a matter of prayer and received a revelation on February 24, 1834. The Lord instructed the Prophet to assemble at least one hundred young and middle-aged men and to go to the land of Zion, or Missouri. (See D&C 130:19–34.)
Zion's Camp, a group of approximately one hundred and fifty men, gathered at Kirtland, Ohio, in the spring of 1834 and marched to Jackson County, Missouri. By the time they reached Missouri, the camp had increased to approximately two hundred men.[3]
LDS Quorum of Seventy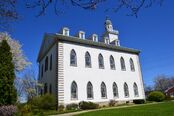 Created by the Mormon Prophet Joseph Smith (1805-1844) in early 1835, the Quorum of Seventy was to act as traveling and presiding ministers for the newly created The Church of Jesus Christ of Latter-day Saints. Many of these men performed notable works for the early church, living near then church headquarters in Kirtland, Ohio. The Quorum of Seventy itself did not meet as a governing body of the church and was not renewed until reorganized by the church in 1976.
After Zions Camp was dismissed and the members began their return journey to the Kirtland area, Lorenzo accompanied Joseph Smith and his brothers Hyrum and William. We might surmise that this opportunity for more intimate association with the Prophet both arose from a heightened spiritual position and led to further enlightenment.
In 1835 Lorenzo was ordained a Seventy and called into membership of the newly created First Quorum of the Seventy. As such, he was recognized as a man of attainment, a leader among the saints.
Marriage and Family
1st Marriage: Parthenia Works
About 1837 he married Parthenia Works. Parthenia bore Elder Booth seven children.
2nd Marriage: Jane Hawley
His second wife Jane later took with her to Utah her child (Harrison Lorenzo Boothe) as well as her step-son, Mosiah Booth, (Mosiah's mother was Parthenia.)
Children
Offspring of Lorenzo Dow Booth and

Jane Hawley (1821-1895)

Name
Birth
Death
Joined with

Harrison Lorenzo Booth (1847-1930)
Siblings
References
Footnotes (including sources)