Lucretia Higley was born 13 November 1781 in Marlboro, Windham County, Vermont to Daniel David Higley (1737-1812) and Ruth Higley (1744-1809) and died 25 July 1865 Tooele, Tooele County, Utah of unspecified causes. She married Oliver Higley (1779-1846) 20 June 1801 in Marlboro, Windham County, Vermont.
Biography
Oliver and Lucretia Higley joined the church in Chautauqua County, New York and moved to Kirtland, Ohio in 1836 with 3,000 Saints and when the Saints exodus of 1837 they moved to Buffalo Grove, Ogle County, Illinois, where they resided until 1843 when they went to Jo Daviess County, Illinois until the close of his life May 6, 1846. He worked in agriculture until elderly when he managed a basket factory. He was respected for being honest and kind and enjoyed good will of all religious sects. Lucretia moved with her son Clark west to Tooele, Utah where she died at 84.
1861 Wagon Train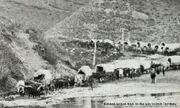 Greene with his family were participants in the David Cannon 1861 Pioneer Company, a 79 day wagon train traveling from Florence (now Omaha, Nebraska) to Salt Lake City in the early summer. It was the first of 12 such wagon trains of the year. It was a large train of 68 wagons and nearly 300 passengers led by a young 23-year old missionary returning home from England, Elder David H Cannon. Several diary/biographical accounts exist.
Children
Offspring of Oliver Higley and Lucretia Higley (1781-1865)
Name
Birth
Death
Joined with

Anna Higley (1803-1803)




Daniel Higley (1804-1877)



Anna Higley (1806-1887)
29 November 1806 Marlborough, Windham County, Vermont, United States
26 February 1887 Los Angeles, Los Angeles County, California, United States
Thomas Burdick (1796-1877)


Lovina Higley (1808-1906)




Daughter Higley (1812-1812)



Clark Higley (1813-1900)
26 November 1813

Edinburg

, Saratoga County, New York, United States
24 March 1900

Erda

, Tooele County, Utah, United States
Malinda Cheney (1822-1900) 

Eliza Ellen Goode (1847-1922)

 

Malinda Cheney (1822-1900)

 

Eliza Ellen Goode (1847-1922)

 

Amanda Thompson Baker (1844-1907)



Truman Higley (1817-1882)
20 July 1817 Jamestown, Chautauqua County, New York, United States
17 November 1882 Los Angeles, Los Angeles County, California, United States
Lucy Adams Fisher (1818-1856) Sarah Ann Irvine (1831-1867) [[|Lucy Adams Fisher (1818-1856)]] Sarah Ann Irvine (1831-1867)


Harvey Higley (1819-1884)




Harriet Higley (1822-1884)
Siblings
Residences
Footnotes (including sources)