Biography
[
]
Lyman Curtis was born 21 January 1812 in New Salem, Franklin County, Massachusetts, United States to Nahum B Curtis (1784-1846) and Millicent Waite (1787-1838) and died 5 August 1898 Salem, Utah County, Utah, United States of unspecified causes. He married Charlotte Iris Alvord (1815-1879) 26 July 1834 in Liberty, Clay County, Missouri. He married Sarah Wells Hartley (1836-1921) 26 July 1862 in Salt Lake City, Salt Lake County, Utah.
Lyman Curtis was the second son of Millicent Waite and Nahum Curtis. Lyman joined the church March 14, 1833. In 1836, his father, with the rest of the family, settled in Caldwell County, Missouri. In February of 1836, Lyman married Charlotte Alvord. His mother, Millicent Curtis died September 3, 1838, in Caldwell County, Missouri and about that time they buried their oldest son, Ammon Curtis. Lymon and Charlotte had seventeen or eighteen children.
Lyman purchased land from the government built houses and began to gather around them the comforts of life, but during the fall of 1838, they were surrounded by mob militia and were compelled to leave their home.
They next settled in Nauvoo, Illinois where they obtained land, built houses and again gather around them the comforts of life. Lyman helped build the Nauvoo Temple. They also polished stones used for the temple. It sometimes took days to polish a single stone. Sand was poured on a cut stone then another flat stone was laid on top and ground back and forth until the understone was polished. Here they shared the persecutions of the Saints. Lyman was present and viewed the dead martyrs, Joseph and Hyrum Smith. Lyman, his father, and brother George helped guard the bodies.
The mob forced them away and they traveled to Council Bluffs. In 1850 Lyman brought his family to Utah from Council Bluffs, his brother Moses accompanying with his family.
He had a second wife: Sarah Wells Hartley and they had seven children. He may have had another wife, Adelia Andrews.
Zions Camp Participant
[
]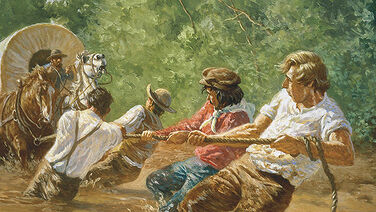 One of the most interesting episodes in the early history of LDS Church was the march of Zion's Camp (1834). The members of the Church in Missouri were being persecuted, and the Prophet Joseph made it a matter of prayer and received a revelation on February 24, 1834. The Lord instructed the Prophet to assemble at least one hundred young and middle-aged men and to go to the land of Zion, or Missouri. (See D&C 130:19–34.)
Zion's Camp, a group of approximately one hundred and fifty men, gathered at Kirtland, Ohio, in the spring of 1834 and marched to Jackson County, Missouri. By the time they reached Missouri, the camp had increased to approximately two hundred men.
Lyman Curtis married Charlotte Iris Alvord (1815-1879) on 26 July 1834, just barely 30 days after Zions Camp was disbanded in Clay County, Missouri where they would settle with many of the other saints. Both Lyman and Charlotte had participated in the march from Ohio to Missouri.
Marriage and Family
[
]
Children
Offspring of Lyman Curtis and

Sarah Wells Hartley (1836-1921)

Name
Birth
Death
Joined with

Parley Perry Soper-Curtis (1858-1939)




Charles Soper-Curtis (1859-1902)




Sarah Lucina Curtis (1863-1921)




Eliza Jane Curtis (1865-1949)




Millicent Curtis (1867-1965)




Emma Cornelia Curtis (1869-1951)




Josephine Matilda Curtis (1872-1877)




Asa Lyman Curtis (1877-1961)
Siblings
Vital Records
[
]
Salem City Gravestone
[
]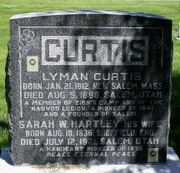 References
[
]