Macon /ˈmeɪkən/ (officially Macon–Bibb County) is a city located in the state of Georgia, United States. Macon lies near the geographic center of the state, approximately 85 miles (137 km) south of Atlanta, hence the city's nickname "the Heart of Georgia."
Settled near the fall line of the Ocmulgee River, Macon is the county seat of Bibb County and had a 2014 estimated population of 153,691. Macon is the principal city of the Macon metropolitan area, which had an estimated population of 231,259 in 2014. Macon is also the largest city in the Macon–Warner Robins Combined Statistical Area (CSA), a larger trading area with an estimated 417,473 residents in 2014; the CSA abuts the Atlanta metropolitan area just to the north.
In a 2012 referendum, voters approved the consolidation of Macon and Bibb County, and Macon became Georgia's fourth-largest city (just after Augusta). The two governments officially merged on January 1, 2014.[4]
Macon is served by three interstate highways: I-16 (connecting the city to Savannah and coastal Georgia), I-75 (connecting the city with Atlanta to the north and Valdosta to the south), and I-475 (a city bypass highway).
The city has several institutions of higher education, as well as numerous museums and tourism sites. The area is served by the Middle Georgia Regional Airport and the Herbert Smart Downtown Airport. The mayor of Macon is Robert Reichert, a former Democratic member of the Georgia House of Representatives. Reichert was elected mayor of the newly consolidated city of Macon–Bibb, and he took office on January 1, 2014.[5]
History
[
]
Macon lies on the site of the Ocmulgee Old Fields, where the historic Creek Indians lived in the 18th century. Their prehistoric predecessors, the Mississippian culture, built a powerful chiefdom (950–1100 AD) based on an agricultural village and constructed earthwork mounds for ceremonial, burial and religious purposes. The areas along the rivers in the Southeast had been inhabited by varying cultures of indigenous peoples for 13,000 years before Europeans arrived.[6]
Macon developed at the site of Fort Benjamin Hawkins, built from 1806–1809 at the fall line of the Ocmulgee River to protect the new frontier and establish a trading post with Native Americans. The fort was named in honor of Benjamin Hawkins, Superintendent of Indian Affairs for the Southeast territory south of the Ohio River for more than two decades. He lived among the Creek and had a Creek wife. This was the most inland point of navigation on the river from the Low Country. President Thomas Jefferson forced the Creek to cede their lands east of the Ocmulgee River and ordered the fort built. (Archeological excavations in the 21st century found evidence of two separate fortifications.)[7]
Fort Hawkins guarded the Lower Creek Pathway, an extensive and well-traveled American Indian network later improved by the United States as the Federal Road from Washington, DC to the ports of Mobile, Alabama and New Orleans, Louisiana.[7] A gathering point of the Creek and American cultures for trading, it was also a center of state militia and federal troops. The fort served as a major military distribution point during the War of 1812 against Great Britain and also during the Creek War of 1813. Afterward, the fort was used as a trading post for several years and was garrisoned until 1821. It was decommissioned about 1828 and later burned to the ground. A replica of the southeast blockhouse was built in 1938 and stands today on a hill in east Macon. Part of the fort site is occupied by the Fort Hawkins Grammar School.[7] In the twenty-first century, archeological excavations have revealed more of the fort's importance, and stimulated planning for additional reconstruction of this major historical site.
As many settlers had already begun to move into the area, they renamed Fort Hawkins "Newtown." After the organization of Bibb County in 1822, the city was chartered as the county seat in 1823 and officially named Macon. This was in honor of the North Carolina statesman Nathaniel Macon,[8] because many of the early settlers hailed from North Carolina. The city planners envisioned "a city within a park" and created a city of spacious streets and parks. They designated 250 acres (1.01 km2) for Central City Park, and passed ordinances requiring residents to plant shade trees in their front yards.
The city thrived due to its location on the Ocmulgee River, which enabled shipping to markets; cotton became the mainstay of Macon's early economy, based on the enslaved labor of Africans. Macon was in the Black Belt of Georgia, where cotton was the chief commodity crop. Cotton steamboats, stage coaches, and later, in 1843, a railroad increased marketing opportunities and contributed to the economic prosperity to Macon. In 1836, the Georgia Conference of the Methodist Episcopal Church founded Wesleyan College in Macon; it was the first college in the United States chartered to grant degrees to women.[9] In 1855 a referendum was held to determine a capital city for Georgia. Macon came in last with 3,802 votes.[10]
During the American Civil War, Macon served as the official arsenal of the Confederacy. Camp Oglethorpe, in Macon, was used first as a prison for captured Union officers and enlisted men. Later it held officers only, up to 2,300 at one time. The camp was evacuated in 1864.[11]
Macon City Hall, which served as the temporary state capitol in 1864, was converted to use as a hospital for the wounded. The Union General William Tecumseh Sherman spared Macon on his march to the sea. His troops had sacked the nearby state capital of Milledgeville, and Maconites prepared for an attack. Sherman did not bother to go through Macon.
The Macon Telegraph wrote that, of the 23 companies which the city had furnished the Confederacy, only enough men survived and were fit for duty to fill five companies by the end of the war. The human toll was very high.[12]
The city was taken by Union forces at the end of the war during Wilson's Raid on April 20, 1865.[13]
Gradually into the twentieth century, Macon grew into a prospering town in Middle Georgia. It began to serve as a transportation hub for the entire state. In 1895, the New York Times dubbed Macon "The Central City," in reference to the city's emergence as a hub for railroad transportation and textile factories.[14] Terminal Station was built in 1916.[15]
In 1994 Tropical Storm Alberto made landfall in Florida dumping 24 inches (61 cm) of rain, which resulted in major flooding in Georgia. Macon was one of the cities to suffer the worst flooding.[16]
On May 11, 2008, an EF2 tornado touched down near Lizella. The tornado then tracked northeast to the south shore of Lake Tobesofkee then continued into Macon and lifted near Dry Branch near the Twiggs County line. The tornado did not produce a continuous path, but did produce sporadic areas of major damage. Widespread straight-line wind damage was also produced along and south of the track of the tornado. The most significant damage was in the city of Macon especially along Eisenhower Parkway and Pio Nono Avenue where 2 businesses were destroyed and several others sustaining heavy damage. Middle Georgia State College was also hit by the tornado, snapping or uprooting 50 percent or more of the trees and doing significant damage to several buildings on campus with the gymnasium sustaining the worst damage. This tornado varied in intensity from EF0 to EF2 with the EF2 damage and winds up to 130 miles per hour (210 km/h) occurring near the intersection of Eisenhower Parkway and Pio Nono Avenue. Total path length was 18 miles (29 km) with a path width of 100 yards (91 m).
In 2012, voters in Macon and Bibb County approved a new consolidated government between the city and county, making the city's new boundary lines the same as the county's and deannexing a small portion of the city that once lay in Jones County.[4]
Consolidation
[
]
On July 31, 2012, voters in Macon (57.8 percent approval) and Bibb County (56.7 percent approval) passed a referendum to merge the governments of the city of Macon and most of unincorporated Bibb County, based on the authorization of House Bill 1171, passed by the Georgia General Assembly earlier in the year;[17] four previous consolidation attempts (in 1933, 1960, 1972, and 1976) had failed.[18][19][20]
Under the consolidation, the governments of Macon and Bibb County were replaced with a single mayor and a nine-member countywide commission elected to office by county districts. A portion of Macon that extends into nearby Jones County was deincorporated from Macon. Robert Reichert is the first mayor of Macon-Bibb after the election in September 2013 and a runoff with C. Jack Ellis in October.[5][21][22][23]
Timeline
[
]
Timeline of Macon, Georgia 
1806 - U.S.

Fort Hawkins

built at Creek Indian

Ocmulgee Old Fields

(future site of Macon).[24]
1821 - Fort Hawkins settlement renamed "Newtown."[24]
1822 - Bibb County created.[25]
1823 - Town of Macon incorporated; named after politician

Nathaniel Macon

.[24]
1826
1829 - Newtown becomes part of Macon.[24]
1833 - Steamboat in operation.[24]
1834 - City of Macon incorporated.[28]
1835 -

Robert Augustus Beall

elected mayor.
1836 -

Monroe Railroad Bank

built.[29]
1838 -

Monroe Railroad

(

Forsyth

-Macon) begins operating.[28]
1839 -

Georgia Female College

opens.[30]
1840

Rose Hill Cemetery

established.
Population: 3,927.[31]

1846 -

Small House

(residence) built (approximate date).[29]
1848 - Telegraph begins operating.[32]
1860
1862 - "Arsenal of the Confederate Government moved to Macon" during the American Civil War.[32]
1864
1865 - April 20: Macon occupied by Union forces.[24]
1866 - October 29: Equal Rights and Educational Association of Georgia

meeting

held in Macon.[34]
1871
1874 - Public Library (

social library

) established.[35]
1876 -

Mount de Sales Academy

active.
1880
1884

Macon Daily News begins publication.[26]

Academy of Music

built.

1887
1900 - Price Library (public library) opens.[38]
1906 -

Ocmulgee River

levee construction begins.[29]
1910 - Population: 40,665.
1917 -

Cox Capitol Theatre

in business.
1918
1919 - Washington Memorial Library (public library) established.[29]
1921 -

Douglass Theatre

and Rialto Theatre in business.[41]
1922
1925 -

Macon City Auditorium

built.[29]
1929 -

Luther Williams Field

(stadium) opens.
1933 -

Citizens & Southern National Bank

building constructed.[29]
1936

Ocmulgee National Monument

established.
Farmer's Market built.[29]

1938 - Bibb Theatre in business.[41]
1948 -

WIBB

radio begins broadcasting.
1949 -

Middle Georgia Regional Library

headquartered in Macon.
1950 - Population: 70,252.
1952 - Georgia Journal newspaper begins publication.[26]
1953 -

WMAZ-TV

begins broadcasting.[44]
1955 - "Singer James Brown records his first single '

Please Please Please

' at the studio of WIBB" radio in Macon.[32]
1964 - Middle Georgia Historical Society formed.[45]
1965 -

Macon Junior College

established.[28]
1966 - U.S. Supreme Court decides Evans v. Newton

desegregation

-related lawsuit.[46]
1967

December 18: Funeral of musician

Otis Redding

.[37]

Ronnie Thompson

becomes mayor.

1970 - Population: 122,423.
1978 - Middle Georgia Archives organized.[47]
1983
1993 -

Sanford Bishop

becomes U.S. representative for

Georgia's 2nd congressional district

.[49]
1994
1999 -

C. Jack Ellis

becomes mayor.[32]
2000 - Population: 97,255.
2001 - City website online (approximate date).[50]

Template:Time fact

2003 - Historic Macon Foundation formed.[51]
2007 -

Robert Reichert

becomes mayor.
2010 - Population: 91,351.[52]
2012 - Governments of Macon city and Bibb County consolidated.
2015 -

Middle Georgia State University

active.
Geography
[
]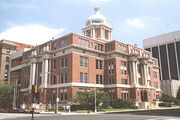 The Ocmulgee River is the major river that runs through the city. Macon is one of Georgia's three Fall Line Cities, along with Augusta and Columbus. The Fall Line is where the hilly lands of the Piedmont plateau meet the flat terrain of the coastal plain. As such, Macon has a varied landscape of rolling hills on the north side and flat plains on the south. The fall line, where the altitude drops noticeably, causes rivers in the area to flow rapidly toward the ocean. In the past, Macon and other Fall Line cities had many textile mills powered by the rivers.
Macon is located at 32°50′05″N 83°39′06″W / 32.834839, -83.651672 (32.834839, −83.651672).[53]
According to the United States Census Bureau, the city has a total area of 56.3 square miles (146 km2), of which 55.8 square miles (145 km2) is land and 0.5 square miles (1.3 km2) (0.82%) is water.
Macon is approximately 330 feet (100 m) above sea level.[3]
Climate
[
]
Macon has a humid subtropical climate (Köppen climate classification Cfa). The normal monthly mean temperature ranges from 46.3 °F (7.9 °C) in January to 81.8 °F (27.7 °C) in July. On average, there are 4.8 days with 100 °F (38 °C)+ highs,[lower-alpha 1] 83 days with 90 °F (32 °C)+ highs,[lower-alpha 2] and 43 days with a low at or below freezing; the average window for freezing temperatures is November 7 thru March 22, allowing a growing season of 228 days. The city has an average annual precipitation of 45.7 inches (1,160 mm). Snow is occasional, with about half of the winters receiving trace amounts or no snowfall, averaging 0.7 inches (1.8 cm); the snowiest winter is 1972−73 with 16.5 in (42 cm).[54][55][56]
Climate data for Macon, Georgia (

Middle Georgia Regional Airport

), 1981−2010 normals,[lower-alpha 3] extremes 1892−present[lower-alpha 4]
Month
Jan
Feb
Mar
Apr
May
Jun
Jul
Aug
Sep
Oct
Nov
Dec
Year
Record high °F (°C)
84
(29)
85
(29)
92
(33)
96
(36)
99
(37)
108
(42)
108
(42)
105
(41)
105
(41)
100
(38)
88
(31)
82
(28)
108
(42)
Average high °F (°C)
57.8
(14.3)
62.1
(16.7)
69.5
(20.8)
76.8
(24.9)
84.6
(29.2)
90.3
(32.4)
92.6
(33.7)
91.4
(33.0)
86.1
(30.1)
77.4
(25.2)
68.8
(20.4)
59.6
(15.3)
76.4
(24.7)
Average low °F (°C)
34.8
(1.6)
38.0
(3.3)
44.1
(6.7)
50.1
(10.1)
59.2
(15.1)
67.6
(19.8)
71.0
(21.7)
70.3
(21.3)
63.9
(17.7)
52.4
(11.3)
43.0
(6.1)
36.4
(2.4)
52.6
(11.4)
Record low °F (°C)
−6
(−21)
8
(−13)
14
(−10)
28
(−2)
40
(4)
46
(8)
56
(13)
55
(13)
35
(2)
26
(−3)
10
(−12)
5
(−15)
−6
(−21)
Precipitation inches (mm)
4.24
(107.7)
4.36
(110.7)
4.55
(115.6)
2.96
(75.2)
2.72
(69.1)
4.06
(103.1)
4.95
(125.7)
4.10
(104.1)
3.59
(91.2)
2.79
(70.9)
3.32
(84.3)
4.04
(102.6)
45.68
(1,160.3)
Snowfall inches (cm)
0.4
(1)
trace
0.2
(0.5)
0
(0)
0
(0)
0
(0)
0
(0)
0
(0)
0
(0)
0
(0)
0
(0)
0.1
(0.3)
0.7
(1.8)
Avg. precipitation days

(≥ 0.01 in)

10.1
9.0
8.9
7.7
7.8
10.3
11.4
10.4
7.3
6.2
7.9
8.8
105.8
Avg. snowy days

(≥ 0.1 in)

0.3
0.2
0.1
0
0
0
0
0
0
0
0
0.1
0.7
% 

humidity

70.2
67.2
66.6
64.8
68.5
70.7
74.2
76.1
76.4
71.2
71.1
70.9
70.7
Mean monthly sunshine hours
179.5
192.2
250.8
283.2
315.3
300.0
293.9
288.0
247.4
253.7
200.2
182.2
2,986.4
Percent possible sunshine
56
62
67
73
73
70
67
70
67
72
64
59
67
Source: NOAA (relative humidity and sun 1961−1990)[54][57][58]
Surrounding cities and towns
[
]
Main article:
Macon, Georgia metropolitan area
Demographics
[
]
Historical populations
Census
Pop.
%±
1840
3,297

—

1850
5,720

73.5

%
1860
8,247

44.2

%
1870
10,810

31.1

%
1880
12,749

17.9

%
1890
22,746

78.4

%
1900
23,272

2.3

%
1910
40,665

74.7

%
1920
52,995

30.3

%
1930
53,829

1.6

%
1940
57,865

7.5

%
1950
70,252

21.4

%
1960
69,764

−0.7

%
1970
122,423

75.5

%
1980
116,896

−4.5

%
1990
106,612

−8.8

%
2000
97,255

−8.8

%
2010
91,351

−6.1

%
Est. 2015
153,515
[59]

57.8

%

U.S. Decennial Census[60]
Macon is the largest principal city of the Macon-Warner Robins-Fort Valley CSA, a Combined Statistical Area that includes the Macon metropolitan area (Bibb, Crawford, Jones, Monroe, and Twiggs counties), the Warner Robins metropolitan area (Houston County), and the Fort Valley micropolitan area (Peach County),[61][62][63] which had a combined population of 346,801 at the 2000 census.[2]
As of the official 2010 U.S. Census,[2] the population of Macon was 91,351. In the last official census, in 2000, there were 97,255 people, 38,444 households, and 24,219 families residing in the city. The population density was 1,742.8 people per square mile (672.9/km2). There were 44,341 housing units at an average density of 794.6 per square mile (306.8/km2). The racial makeup of the city was 67.94% African American, 28.56% White, 0.02% Native American, 0.65% Asian, 0.03% Pacific Islander, 0.46% from other races, and 0.77% from two or more races. Hispanic or Latino of any race were 2.48% of the population.
There were 38,444 households out of which 30.1% had children under the age of 18 living with them, 33.0% were married couples living together, 25.7% had a female householder with no husband present, and 37.0% were non-families. 31.7% of all households were made up of individuals and 12.1% had someone living alone who was 65 years of age or older. The average household size was 2.44 and the average family size was 3.08.
In the city, the population was spread out with 26.9% under the age of 18, 11.3% from 18 to 24, 27.5% from 25 to 44, 20.0% from 45 to 64, and 14.3% who were 65 years of age or older. The median age was 34 years. For every 100 females there were 79.7 males. For every 100 females age 18 and over, there were 72.8 males.
Economy
[
]
Personal income
[
]
According to the 2010 Census, the median household income in the city was $28,366, as compared with the state average of $49,347. The median family income was $37,268. Full-time working males had a median income of $34,163 versus $28,082 for females. The per capita income for the city was $17,010. About 24.1% of families and 30.6% of the population were below the poverty line, including 43.6% of those under age 18 and 18.4% of those over 65.[64]
Retail
[
]
Malls include: The Shoppes at River Crossing, Macon Mall, and Eisenhower Crossing. Traditional shopping centers are in the downtown area, and Ingleside Village.[65]
Military
[
]
Robins Air Force Base, the largest single-site industrial complex in the state of Georgia,[66] is just south of Macon, next to the city of Warner Robins.
The headquarters of the 48th Infantry Brigade Combat Team, Georgia Army National Guard is located here.
Arts and culture
[
]
Musical heritage
[
]
Macon is the birthplace or hometown of musicians Emmett Miller, The Allman Brothers Band, Randy Crawford, Mark Heard, Lucille Hegamin, Otis Redding, Little Richard, Mike Mills,[67] and Bill Berry of R.E.M., as well as more recent names like violinist Robert McDuffie and country artist Jason Aldean. September Hase, an alternative rock band, was discovered in Macon. Capricorn Records, run by Macon natives Phil Walden and briefly Alan Walden, made the city a hub for Southern rock music in the late 1960s and 1970s.[68]
The Macon Symphony Orchestra[69] performs at the Grand Opera House in downtown Macon, as well as a youth symphony, and the Middle Georgia Concert Band.[70]
Festivals
[
]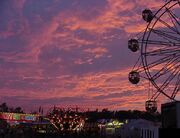 International Cherry Blossom Festival

- a 10-day celebration held every mid-March in Macon
The Mulberry Street Festival,[71] - an arts and crafts festival held downtown the last weekend of March
The Juneteenth Freedom Festival - An annual June performing arts & educational observance of the end of American slavery 1865, celebrating black freedom and heritage, ancient & contemporary
Pan African Festival - an annual celebration of African American culture held in April
Ocmulgee Indian Celebration - A celebration of Macon's original Native American Heritage, this festival is held in September at

Ocmulgee National Monument

. Representatives from the Cherokee,

Chickasaw

, Choctaw,

Creek

,

Seminole

, and other nations come to share stories, exhibit native art, and perform.
The Georgia Music Hall of Fame hosts Georgia Music Week in September.
Macon's annual Bragg Jam festival features an Art and Kids' Festival along the Ocmulgee Heritage Trail and a nighttime Pub Crawl.
Macon Film Festival [72] - an annual celebration of independent films, held the third weekend in July.
Points of interest
[
]
Historical sites
[
]
Terminal Station

is a railroad station that was built in 1916,[15] and is located on 5th St. at the end of Cherry St. It was designed by architect

Alfred Fellheimer

, prominent for his design of

Grand Central Terminal

in New York City in 1903.

Ocmulgee National Monument

is located near downtown Macon. It preserves some of the largest ancient

earthwork mounds

in Georgia built by the

Mississippian culture

a millennium ago, c. 950-1150. It was sacred to the historic

Muscogee

(Creek Nation) as well. Archeological artifacts reveal 13,000 years of human habitation at the site.[6] The park features a spiral mound, funeral mound, temple mounds, burial mounds, and a reconstructed

earth lodge

. It is the first

Traditional Cultural Property

designated by the

National Park Service

east of the Mississippi River.

Fort Benjamin Hawkins

, a major military outpost (1806-1821), was a command headquarters for the US Army and Georgia militia on the frontier, as well as a trading post or factory for the

Creek Nation

. It was a supply depot during US campaigns of the

War of 1812

and the Creek and

Seminole Wars

.

Cannonball House

- historic site[73]

Luther Williams Field

Rose Hill Cemetery

- one of Macon's oldest cemeteries

Sidney Lanier

Cottage - historical home of the poet Sidney Lanier[74]

Temple Beth Israel

- The Jewish congregation was founded in 1859, and now occupies a domed

Neoclassical

facility built in 1902.[75]

Wesleyan College

- first chartered women's college in the world
Museums
[
]
The Allman Brothers Band Museum

- the "Big House" used by the Allman Brothers Band in the early 1970s, now a museum of Allman Brothers history and artifacts
The Georgia Children's Museum[76] - interactive education, located in the downtown Museum District

Georgia Sports Hall of Fame

Museum of Arts and Sciences (Macon)

and Planetarium

Tubman Museum

of African American Art, History, and Culture - the largest African American museum in the Southeast
Community
[
]
City Hall

, Georgia's capitol for part of the Civil War
Douglass Theatre

The

Grand Opera House

, where the Macon Symphony Orchestra performs

Hay House

- also known as the "Johnston-Felton-Hay House," it has been referred to as the "Palace of the South"[77]

City Auditorium

, the world's largest true copper dome [78]

Macon Coliseum

Macon Little Theatre, established in 1934, the area's oldest community theatre, producing seven plays/musicals per season

Waddell Barnes Botanical Gardens
Sports
[
]
Macon is home to the Mercer Bears, who compete at the NCAA Division I level in sports that include soccer (men's and women's), football, baseball, basketball (men's and women's), tennis, and lacrosse. Central Georgia Technical College also competes in men's and women's basketball. Wesleyan College, an all-female school, has teams in basketball, soccer, cross country, tennis, softball, and volleyball.
Club
Sport
League
Venue

Macon Giants

[79]

Baseball

Great South League

Ed Defore Sports Complex

Macon Mayhem

Ice Hockey

Southern Professional Hockey League

Macon Coliseum
| League | Sport | Venue |
| --- | --- | --- |
| Middle Georgia Derby Demons | Roller Derby | Bibb Skate Arena |
Former teams
[
]
Club
Sport
League
Venue
Active

Macon State College

Blue Storm
Various

NCCAA

Various
2009-13
Macon Central City/Hornets
Baseball

Southern League

Central City Park
1892-94
Macon Highlanders/Brigands/

Peaches

/Tigers

Baseball

South Atlantic League

Central City Park and

Luther Williams Field

1904-17, 1923–30
Macon Peaches/

Dodgers

/Redbirds/Pirates
Baseball

Southeastern League

(1932), South Atlantic League (1936–42, 1946–60, 1962–63, 1980-87),

Southern Association

(1961), Southern League (1964, 1966–67)
Luther Williams Field
1932, 1936–42, 1946–60, 1961–64, 1966–67, 1980–82

Macon Braves

Baseball
South Atlantic League
Luther Williams Field
1991-2002
Macon Peaches
Baseball
Southeastern League
Luther Williams Field
2003

Macon Music

Baseball

South Coast League

Luther Williams Field
2007
Macon Pinetoppers
Baseball

Peach State League

Luther Williams Field
2010
Macon Blaze

Basketball

World Basketball Association

Macon Coliseum

2005

Macon Whoopees

Ice Hockey

Southern Hockey League

Macon Coliseum
1974

Macon Whoopee

Ice Hockey

Central Hockey League

(1996-2001),

ECHL

(2001-02)
Macon Coliseum
1996-2002

Macon Trax

Ice Hockey

Atlantic Coast Hockey League

(2002–03),

World Hockey Association 2

(2003-04), Southern Professional Hockey League (2004–05)
Macon Coliseum
2002-05

Macon Knights

Arena Football

af2

Macon Coliseum
2001-06

Macon Steel

Indoor Football

American Indoor Football

Macon Coliseum
2012

Macon Mayhem

Ice Hockey

Southern Professional Hockey League

Macon Coliseum
2015–present
Parks and recreation
[
]
The city maintains several parks and community centers.[80]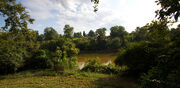 Ocmulgee Heritage Trail - a green way of parks, plazas, and landmarks along the

Ocmulgee River

in downtown Macon
Bloomfield Park
East Macon Park
Frank Johnson Recreation Center
Freedom Park
L.H. Williams Community School Center
Memorial Park
North Macon Park
Rosa Jackson
Senior Center
John Drew Smith Tennis Center
Tattnall Square Tennis Center
Gateway Park Otis Redding [81]
Government
[
]
The mayor is Robert Reichert, a former member of the Georgia House of Representatives, who was elected to the position in 2007. The previous mayor, C. Jack Ellis (1999-2007), was the first person of African-American descent to be elected to the position in the city's history.
The city council is, to date, the only city council in Georgia to conduct partisan elections, with the city council leaning mostly to the Democratic Party.
Education
[
]
Public high schools
[
]
Main article:
Bibb County Public School District
Private high schools
[
]
Central Fellowship Christian Academy

First Presbyterian Day School

Mount de Sales Academy

Stratford Academy

Tattnall Square Academy

Windsor Academy

Covenant Academy[87]
Bethany Christian Academy
Private and specialized schools
[
]
Colleges and universities
[
]
Approximately 30,000 college students live in the greater Macon area.[93] Mercer, Middle Georgia State University, and Wesleyan College have the largest populations of "traditional" college students. Georgia College & State University has a "Center for Graduate and Professional Learning" in Macon.[94]
Mercer University

Middle Georgia State University

Wesleyan College

Central Georgia Technical College

Fort Valley State University

- satellite campus

Georgia College & State University

- satellite campus

Troy University

- satellite campus

Virginia College

- satellite campus

Miller-Motte Technical College

- satellite campus
Media
[
]
See also:
List of newspapers in Georgia (U.S. state)
,
List of radio stations in Georgia (U.S. state)
, and
List of television stations in Georgia (U.S. state)
Macon has a substantial number of local television and radio stations. It is also served by two local papers.
Newspapers and magazines
[
]
The Telegraph

, a daily newspaper, is published in Macon.

The 11th Hour

Gateway Macon (web portal), The Local's Guide for Things To Do in Macon.
Macon Business Journal, a journal chronicling the business community in the Middle Georgia region.

The Mercer Cluster
Infrastructure
[
]
Hospitals
[
]
Central Georgia Rehabilitation Hospital
Coliseum Medical Centers
Coliseum Northside Hospital

Navicent Medical Center of Central Georgia
Transportation
[
]
Airports
[
]
Macon Downtown Airport

is located near downtown. It has a large number of corporate and private aviation aircraft.

Middle Georgia Regional Airport

provides public air service to Macon as well as cargo flights. The airport is situated 9 mi (14 km) south of downtown.
Highways
[
]
Interstates:
U.S. Routes:
State Routes:
Mass Transit
[
]
The Macon Transit Authority (MTA) is Macon's public-transit system, operating the Public Transit City Bus System throughout Macon-Bibb County. Most commuters in Macon and the surrounding suburbs use private automobiles as their primary transportation. This results in heavy traffic during rush hour and contributes to Macon's air pollution. The MTA has a total of 10 city bus routes and an express bus that serves suburban Warner Robins just south of the city.
Macon Transit Authority has a tourist trolley system. The trolleys have offered tours of the downtown Macon area since 1999. The tours consist of all of the major historical sites such as the Georgia Music Hall of Fame, the Hay House, and the Tubman Museum. There are three trolleys holding up to 39 passengers.
Greyhound Lines provides intercity bus service.
Macon grew as a center of rail transport after the 1846 opening of the Macon and Western Railroad.[95] Two of the most note-worthy train companies operating through the city were the Central of Georgia Railway and the Southern Railway. The city continued to be served by passenger trains until the 1970s. Macon is included in the proposed Georgia Rail Passenger Program to restore inter-city rail service.
Notable people
[
]
Main article:
List of people from Macon, Georgia
Sister cities
[
]
Macon has six sister cities, as designated by Sister Cities International, Inc. (SCI):[96]
See also
[
]
Downtown Macon, Georgia

Macon, Georgia metropolitan area

List of mayors of Macon

, Georgia
Notes
[
]
References
[
]
Bibliography
[
]
Published in 19th century
Published in 20th century
"Macon". Georgia: Comprising Sketches of Counties, Towns, Events, Institutions, and Persons Arranged in Cyclopedic Form. 2. Atlanta: State Historical Association. 1906. pp. 511+. https://hdl.handle.net/2027/mdp.39015027784332?urlappend=%3Bseq=503.

 

"Macon", Encyclopaedia Britannica (11th ed.), New York, 1910,

OCLC

 14782424, https://books.google.com/books?id=ZyYqAAAAYAAJ&pg=PA267

 

Federal Writers' Project

(1940), "Macon", Georgia: a Guide to Its Towns and Countryside,

American Guide Series

, Athens: University of Georgia Press, p. 102+, https://archive.org/stream/georgiaaguidetoi008333mbp#page/n137/mode/2up

 

Template:Free access

Ida Young, Julius Gholson, and Clara Nell Hargrove. History of Macon, Georgia (Macon, Ga.: Lyon, Marshall & Brooks, 1950).
John A. Eisterhold. "Commercial, Financial, and Industrial Macon, Georgia, During the 1840s", The Georgia Historical Quarterly, Winter 1969, Vol. 53 Issue 4, pp 424–441
James H. Stone. "Economic Conditions in Macon, Georgia in the 1830s", The Georgia Historical Quarterly, Summer 1970, Vol. 54 Issue 2, pp 209–225
Bowling C. Yates. "Macon, Georgia, Inland Trading Center 1826–1836", The Georgia Historical Quarterly, Fall 1971, Vol. 55 Issue 3, pp 365–377
McInvale, Morton Ray "Macon, Georgia: The War Years, 1861–1865" (Ph.D. dissertation, Florida State University, 1973)
Roger K. Hux. "The Ku Klux Klan in Macon 1919–1925", The Georgia Historical Quarterly, Summer 1978, Vol. 62 Issue 2, pp 155–168
Nancy Anderson, Macon: A Pictorial History (Virginia Beach, Va.: Donning, 1979).
Donnie D. Bellamy. "Macon, Georgia, 1823–1860: A Study in Urban Slavery", Phylon 45 (December 1984): 300–304, 308–309
Kristina Simms. Macon, Georgia's Central City: An Illustrated History (Chatsworth, Calif.: Windsor, 1989).
Titus Brown. "Origins of African American Education in Macon, Georgia 1865–1866", Journal of South Georgia History, Oct 1996, Vol. 11, pp 43–59
Macon: An Architectural Historical Guide (Macon, Ga.: Middle Georgia Historical Society, 1996).
Macon's Black Heritage: The Untold Story (Macon, Ga.: Tubman African American Museum, 1997).
Matthew W. Norman. "James H. Burton and the Confederate States Armory at Macon", The Georgia Historical Quarterly, Winter 1997, Vol. 81 Issue 4, pp 974–987
Titus Brown. "A New England Missionary and African-American Education in Macon: Raymond G. Von Tobel at the Ballard Normal School, 1908–1935", The Georgia Historical Quarterly, Summer 1998, Vol. 82 Issue 2, pp 283–304
Robert S. Davis. Cotton, Fire, & Dreams: The Robert Findlay Iron Works and Heavy Industry in Macon, Georgia, 1839–1912 (Macon, Ga., 1998)
Richard W. Iobst (2009). Civil War Macon: The History of a Confederate City. Mercer University Press. ISBN 978-0-88146-172-5. https://books.google.com/books?id=y_uAV2-_PEAC.

 

Jeanne Herring (2000). Macon, Georgia. Black America. Charleston, South Carolina: Arcadia.

 
Published in 21st century
Tracy Maurer (2001). Macon Celebrates the Millennium. Montgomery, Ala.: Community Communications. ISBN 1581920342.

 

Andrew Michael Manis

(2004). Macon Black and White: An Unutterable Separation in the American Century. Mercer University Press. ISBN 978-0-86554-958-6. https://books.google.com/books?id=7j-wXvGvNvcC.

 

Paul T. Hellmann (2006). "Georgia: Macon". Historical Gazetteer of the United States. Taylor & Francis. ISBN 1-135-94859-3. https://books.google.com/books?id=REtEXQNWq6MC.

 

Robert Scott Davis. "A Cotton Kingdom Retooled for War: The Macon Arsenal and the Confederate Ordnance Establishment", The Georgia Historical Quarterly, Fall 2007, Vol. 91 Issue 3, pp 266–291
Candace Dyer, Street Singers, Soul Shakers, Rebels with a Cause: Music from Macon (Macon, Ga.: Indigo Publishing Group, 2008).
Mara L. Keire. For Business and Pleasure: Red-Light Districts and the Regulation of Vice in the United States, 1890–1933 (Johns Hopkins University Press, 2010); 248 pages; History and popular culture of districts in Macon, Ga., and other cities
Macon. Images of America. Charleston, S.C.: Arcadia. 2013. ISBN 9781467111157. https://books.google.com/books?id=hZAbAgAAQBAJ.

 
External links
[
]

Wikimedia Commons has media related to:
Principal cities

Municipalities
Other
communities

Avondale

Bolingbroke

Bonaire

Clinchfield

Dunbar

Elberta

Elko

Franklinton

Haddock

Juliette

Kathleen

Knoxville

Lizella

Musella

Robins AFB

Sofkee

Smarr

Walden

Counties
CSA
components

Macon Metropolitan Statistical Area

Warner Robins Metropolitan Statistical Area
Fort Valley Micropolitan Statistical Area
 State

of

Georgia

Topics

Regions

Historic South

Lower Coastal Plain

Metro Atlanta

North Georgia

North Georgia Mountains

Northeast Georgia

Sea Islands

Southern Rivers

Southeast Georgia

Southwest Georgia

Wiregrass Region

Largest cities

Counties
Template:Georgia (US state) cities and mayors of 100,000 population