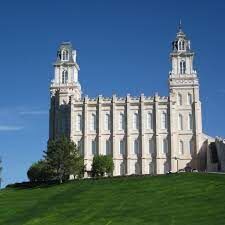 The Manti Utah Temple (formerly the Manti Temple) is a temple of The Church of Jesus Christ of Latter-day Saints (LDS Church) in Manti, Utah. Completed in 1888, it was the church's fifth temple completed, but the third in Utah, following the migration west of church members from Nauvoo, Illinois.
Description
[
]
Perched atop a rising knoll, known as "Temple Hill," the magnificent Manti Utah Temple dominates the Sanpete Valley of Central Utah. Located just off Highway 89, approaching travelers can glimpse the distinctive towers from miles and miles away. Across the highway from the temple is the Pioneer Heritage Center and Gardens—a 2.5-acre park featuring a reflecting pool for the temple, meandering walkways with park benches, an amphitheater, finely crafted statues, and beautiful landscaping.
Twin self-supporting, open-centered spiral staircases wind five stories up each of the octagonal towers on the west side of the Manti Utah Temple. No joints can be felt in the walnut hand railings due to the expert skills employed. The dramatic stairways are considered an engineering marvel of the pioneer Latter-day Saints.
A large arching tunnel under the east tower of the Manti Utah Temple, which has since been closed, allowed cars to pass from one side of the temple to the other.
The groundbreaking ceremony for the Manti Utah Temple was held a month before the groundbreaking ceremony for the Logan Utah Temple, marking the first time that two groundbreaking ceremonies were held in the same year. The two buildings share a similar castellated appearance.
Lightning struck the east tower of the Manti Utah Temple in 1928, which started a fire that burned for three hours before it could be extinguished.
Murals in the Manti Utah Temple were repainted in the 1940s when the deterioration of wall plaster meant the garden and world room murals by Danquart Weggeland and C.C.A. Christensen could not be saved. Robert L. Shepherd painted the Garden Room, and Minerva Teichert painted the World Room with scenes depicting Biblical stories of the Tower of Babel, Abraham, Joseph in Egypt, Moses, and Esau; worldwide expansion of the Pilgrims, oriental traders, European crusaders, and Christopher Columbus; and the North American continent with a Native American, fur trapper, pilgrim, and city of Zion.
In 1985, the Manti Utah Temple was formally rededicated following a four-year renovation project that included updating the auxiliary systems; adding three sealing rooms, new dressing rooms, a nursery, and offices; restoring the pioneer craftsmanship and artwork to their former glory; and extensively renovating the baptistry including the addition of an exterior entrance. Apartments for temple workers were also constructed during the renovation. The three-day open house was attended by 40,308 visitors.
In 2019, the annual Mormon Miracle Pageant was held on the grounds of the Manti Utah Temple for the last time, following a 53-year run.
Temple Presidents
[
]
Daniel Hanmer Wells (1814-1891) 1888–1891 - Counselor of the Quorum of the Twelve Apostles. Wells was a member of the Council of Fifty, Mayor of Salt Lake City (1866–1876), president of the Manti Utah Temple (1888–1891), and presided over the continuing construction of the Salt Lake Temple as the superintendent of public works for the LDS Church (1848–1863).
Anthon Henrik Lund (1844-1921) 1891–1893 - Born in Denmark. Also served as an official church historian and in the Utah Territorial Legislature. He is credited with starting Utah State University because he introduced the legislation to start it.
John D.T. McAllister (1827-1910) 1893–1906 =
Lewis Anderson 1906–1933
Robert D. Young 1933–1943
Lewis R. Anderson 1943–1959
A. Bent Peterson 1959–1968
Reuel E. Christensen 1968–1974
June W. Black 1974–1978v
Wilbur W. Cox 1978–1985
Alma P. Burton 1985–1988
Earl R. Olsen 1988–1991
Garth P. Monson 1991–1994v
Lee R. Barton 1994–1997
Graham W. Doxey 1997–2000
Jack H. Goaslind Jr. 2000–2003
Archie M. Brugger 2003–2006
J. Bruce Harless 2006–2009
Ed J. Pinegar 2009–2012
George S. Grimshaw 2012–2015
Lonnie B. Nally 2015–2018
Douglas M. Dyreng 2018–
See Also
[
]
LDS Church in Utah

Utah List of Stakes of the Church

Mormon Temples List
References
[
]
Manti Utah Temple

[

]