We're Getting Mutants in the MCU - The Loop
Play Sound
Biography
Margaret Maria Alley Young was born 19 December 1825 in Lynn, Essex County, Massachusetts, United States to George Alley (1792-1859) and Mary Symonds (1796-1880) and died 5 November 1852 Salt Lake City, Salt Lake County, Utah, United States of unspecified causes. She married Brigham Young (1801-1877) 14 January 1846 in Nauvoo, Hancock County, Illinois.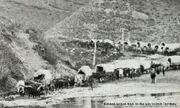 After leading his first historic 1847 Vanguard Company to blaze the trail to the Salt Lake Valley, Brigham Young (1801-1877) and many of the others returned back to Winter Quarters to collect their families and the rest of the church.
This family was numbered with the 1229 pioneers in 397 wagons make the 1,031 mile trek in 86 days (May 26 to Sept 24) and would be amongst the first of hundred plus wagon trains that would make the same journey over the next 24 years.
Margaret was born in Massachusetts and removed with her father's family to Nauvoo, Illinois in 1842. She married Brigham Young, Jan. 14, 1846. She with her fathers family departed Nauvoo for Winter Quarters (North Omaha, Nebraska) in the fall of 1846. They departed Winter Quarters June 5 1848 in the second Brigham Young Company and arrived in the Salt Lake Valley Sept. 20, 1848. It was said that Margaret was a woman of small stature, medium complexion, intelligent, energetic and faithful to all her trusts - true to her religion, her husband and her friends. She was devoted to her children.
Marriage & Family
Evelyn Louise Young (1850-1917)

Mohonri Moriancumer Young (1852-1884)
Children
Offspring of Brigham Young (1801-1877) and Margaret Maria Alley Young

Name
Birth
Death
Joined with

Evelyn Louise Young (1850-1917)

Mohonri Moriancumer Young (1852-1884)
Siblings
Offspring of George Alley (1792-1859) and Mary Symonds (1796-1880)

Name
Birth
Death
Joined with

George Hubbard Alley (1823-1910)

Margaret Maria Alley (1825-1852)
19 December 1825 Lynn, Essex County, Massachusetts, United States
5 November 1852 Salt Lake City, Salt Lake County, Utah, United States
Brigham Young (1801-1877)
Lydia Ann Alley (1828-1909)
1 January 1828 Lynn, Essex County, Massachusetts, United States
6 August 1909 Salt Lake City, Salt Lake County, Utah, United States
Daniel Hanmer Wells (1814-1891)
Susan Hannah Alley (1830-1924)
3 May 1830 Lynn, Essex County, Massachusetts, United States
5 May 1924 Salt Lake City, Salt Lake County, Utah, United States
Daniel Hanmer Wells (1814-1891)

Stephen Webb Alley (1832-1921)

Elizabeth Royce Alley (1835-1916)

Charles Henry Alley (1839-1901)

Elicia Alley (1845-)
Vital Records
References
See Also
Margaret Alley

Alley in Hancock County, Illinois

Alley in Essex County, Massachusetts
Footnotes (including sources)