We're Getting Mutants in the MCU - The Loop
Play Sound
Mary Ann Angell Young was born 8 June 1808 in North Providence, Providence County, Rhode Island to James Williams Angell (1776-1851) and Phebe Ann Morton (1786-1854) and died 27 June 1882 Salt Lake City, Salt Lake County, Utah of unspecified causes. She married Brigham Young (1801-1877) 18 February 1834 in Kirtland, Geauga County, Ohio.
Biography
Lion House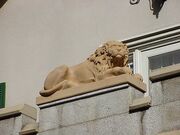 The Lion House was the Brigham Young home in Salt Lake City for his wives and 55 children. The 2020 History of the Church - Saints Vol II gives a vivid description of family life there.
In Salt Lake City Brigham built two majestic homes just a block south from the Mormon Tabernacle, the first was called Lion House and the second was Bee Hive. In these two home would reside the vast majority of his family. The house had large social rooms downstairs to host major family communal activities.
Built in 1856 by Brigham Young, Lion House derives its name from the stone lion statue resting over the front entrance. "Lion of the Lord" was also a nickname of Brigham Young, who served as President of The Church of Jesus Christ of Latter-day Saints from 1847 until his death in 1877.
The solid construction of both buildings gives witness to Brigham's vast experience as a carpenter and cabinet-maker.
Today the bottom floor of the Lion House is a functional, cafeteria-style restaurant called "The Lion House Pantry" which is open to the public. It is located adjacent to the LDS church's main headquarters and heavily-visited Temple Square, and therefore serves many of the employees and visitors there each day.
Marriage & Family
Mary Ann Angell (1808-1882) was married on 18 Feb 1834 in Kirtland OH to Brigham Young (1801-1877), future president of the LDS Church shortly after the death of his first wife. They had six children:
Children
Offspring of Brigham Young (1801-1877) and Mary Ann Angell Young

Name
Birth
Death
Joined with
Joseph Angell Young (1834-1875)
14 October 1834 Kirtland, Geauga County, Ohio
5 August 1875 Manti, Sanpete County, Utah
Margaret Whitehead (1838-1916)


Clara Federata Stenhouse (1850-1893)




Mary Ann Ayers (1831-)


Athalia Elizabeth Grant (1836-1907)
Mary Ann Young (1836-1843)
18 December 1836 Kirtland, Geauga County, Ohio
27 August 1843 Nauvoo, Hancock County, Illinois
Brigham Young (1836-1903)
18 December 1836 Kirtland, Geauga County, Ohio
11 April 1903 Salt Lake City, Salt Lake County, Utah

Catherine Curtis Spencer (1836-1922)




Helen E Armstrong (1856-1939)


Abigail Stevens (1870-1954)
Jane Maria Carrington (1840-1905)


Rhoda Elizabeth Perkins (1862-1927)

Alice Young (1839-1874)
4 September 1839 Montrose, Lee County, Iowa
2 November 1874 St. George, Washington County, Utah
Hiram Bradley Clawson (1826-1912)
Luna Caroline Young (1842-1922)
20 August 1842 Nauvoo, Hancock County, Illinois
17 November 1922 Logan, Cache County, Utah
George Washington Thatcher (1840-1902)
John Willard Young (1844-1924)
1 October 1844 Nauvoo, Hancock County, Illinois
11 February 1924 New York City, New York

Elizabeth Canfield (1845-1916)




Lucy Maria Canfield (1847-1915)


Adolphine Bertha Christine Damke (1859-1924)


Clara Lucinda Jones (1846-1885)




Luella Van Cott (1861-1920)
Siblings
Offspring of James Williams Angell (1776-1851) and Phebe Ann Morton (1786-1854)

Name
Birth
Death
Joined with
Mary Ann Angell (1808-1882)
8 June 1808 North Providence, Providence County, Rhode Island
27 June 1882 Salt Lake City, Salt Lake County, Utah
Brigham Young (1801-1877)
Jemima Angell (1804-1869)
4 October 1804

Camden

, Oneida County, New York, United States
16 July 1869

Wanship

, Summit County, Utah, United States

Valentine W. Young (c1800-1843)




William Stringham


Brigham Young (1801-1877)
Solomon Angell (1806-1881)
26 April 1806

Florence

, Oneida County, New York, United States
20 September 1881

Leeds

, Washington County, Utah, United States

Eunice Clark Young (1809-1879)




Lucinda Clark (1822-1904)




Anna Cajia Johanson (1835-1914)

Hiram Angell (1807-1829)
17 July 1807 Providence, Providence County, Rhode Island
7 September 1829 Providence, Providence County, Rhode Island
Truman Osborn Angell (1810-1887)
5 June 1810 North Providence, Providence County, Rhode Island, United States
16 October 1887 Salt Lake City, Salt Lake County, Utah, United States
Polly Ann Johnson (1813-1876)
Susan Eliza Savage (1825-1893)
Mary Ann Johnson (1836-1906)
Caroline Frances Angell (1825-1908)
3 October 1825 Providence, Providence County, Rhode Island, United States
28 October 1908 Bountiful, Davis County, Utah, United States
George David Varner Davis (1823-1870)
Joseph Holbrook (1806-1885)
References
Residences
Footnotes (including sources)