Biography
Mary Ann Blanks Smithson Harmon was born 25 December 1808 in Pendleton, Anderson County, South Carolina, United States to James Bartlett Smithson (1767-1838) and Sarah Blanks Weatherford (1780-1866) and died 29 January 1897 Salt Lake City, Salt Lake County, Utah, United States of unspecified causes. She married James Harmon (1801-1851) 1828 in Pendleton, Anderson County, South Carolina.
Mary Ann Blanks Smithson was the daughter of Bartley (could be Bartlett) Smithson and Sarah Weatherford. It's also said that she was the 2nd great-granddaughter of the Duke of Northumberland according to family story passed down word of mouth.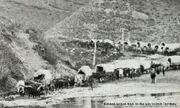 Numbered amoung the participants in the Mississippi Saints 1846 Pioneer Company, a early Mormon pioneer wagon train that left Mississippi in 1846 to join the Mormon exodus to Utah. This group Brigham Young's vanguard company and spent the winter of 1846/47 at Fort Pueblo where the were joined by soldiers of the sick detachment of the Mormon Battalion. They reached Salt Lake City in late summer of 1847.

En route from Mississippi to the Great Salt Lake Valley in 1846 James and his family stopped at Pueblo, Colorado for the winter. In 1847 they continued on in company with members of the Mormon Battalion Sick Detachment under the leadership of James Brown (see the Book of the Pioneers entries for sons James Bartlett Harmon, John Taylor Harmon and daughter Josephine Evans--vol. 1, p 226, 304 and 305.) Their father (James) was rebaptized at Salt Lake City 6 August 1847 but died at Auburn, California.
Children
Offspring of James Harmon and Mary Ann Blanks Smithson (1808-1897)
Name
Birth
Death
Joined with
Mary Eliza Harmon (1830-1913)
3 April 1830 Pendleton, Anderson County, South Carolina, United States
19 March 1913 Carson City, Nevada, United States
Samuel Andrew Nevers (1824-1889)

Paralee America Harmon (1835-1875)
14 July 1835

Aberdeen

, Monroe County, Mississippi, United States
18 July 1875

Richville

, Morgan County, Utah, United States
Samuel Garn (1827-1916)

James Bartley Harmon (1840-1913)
1840

Aberdeen

, Monroe County, Mississippi, United States
22 May 1913 Ogden, Weber County, Utah, United States


Sarah Elizabeth Harmon (1841-1888)
18 August 1841

Aberdeen

, Monroe County, Mississippi, United States
15 October 1888 Fresno, Fresno County, California, United States
John Devers Winters (1830-1900)

Josephine Smithson Harmon (1845-1927)
16 March 1845

Aberdeen

, Monroe County, Mississippi, United States
13 October 1927

Centerville

, Davis County, Utah, United States
Jonathan Benner Evans (1837-1883)

John Taylor Harmon (1847-1926)
6 April 1847 Pueblo, Pueblo County, Colorado, United States
2 March 1926 Salt Lake City, Salt Lake County, Utah, United States
Susan Chessel White (1857-1942)
Siblings
Residences
See Also
Smithson in South Carolina

Smithson in Mississippi
Footnotes (including sources)