We're Getting Mutants in the MCU - The Loop
Play Sound
Mary Brewster was born circa 1569 in England, United Kingdom and died 17 April 1627 Plymouth Colony, Plymouth, Plymouth County, Massachusetts, United States of unspecified causes. She married William Brewster (1567-1644) 1583 in Scrooby, Nottinghamshire, England, United Kingdom.
Unknown Parentage
The quest for the identity of Mary, the wife of William Brewster, has attracted the attention of many genealogists, but as yet without a definitive result. For some time she had been thought to be Mary Wentworth, daughter of Thomas Wentworth of Scrooby, and in 1965 John G. Hunt presented his case in favor of this identity, but this claim was rejected by Rubincam and others, and Hunt himself has now given up this position.
For the latest info see; Brewster Genealogy.
Biography
Scrooby Separatists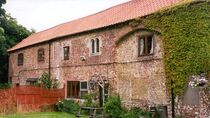 Scrooby Separatists were a mixed congregation of early English Protestants / non-conformists founding living in the border region of of South Yorkshire, Lincolnshire and Nottinghamshire. They were called "Separatists" because of their rebellion against the religious authority of the Church of England, the official state religion. In 1607/8 the Congregation emigrated to Netherlands in search of the freedom to worship as they chose. Shortly after that they were the basis of the group to sail in the Mayflower to the New World.
They were set on a path of separation from the Anglican Church. From about 1602, Scrooby Manor, Brewster's home, became a meeting place for the dissenting Puritans. In 1606, they formed the Separatist Church of Scrooby.
Survivor of Plymouth's First Winter
Mary Brewster (ca. 1569 – April 17, 1627) was a Pilgrim and one of the women on the Mayflower.[1] She was the wife of Elder William Brewster.[2] She was one of only five adult women from the Mayflower to survive the first winter in the New World, and one of only four such to survive to the "first Thanksgiving" in 1621, which she helped cook. As such, she is included in Plimoth Plantation's reenactment of that Thanksgiving.[5]
She had six children with William - Jonathan, Patience, Fear, Love, an unnamed child who died young, and Wrestling.
Children
Offspring of William Brewster (1567-1644) and Mary Brewster

Name
Birth
Death
Joined with
Jonathan Brewster (1593-1659)
12 August 1593 Scrooby, Nottinghamshire, England, United Kingdom
7 August 1659 Norwich, New London County, Connecticut, United States

Betja Rabnits (1597-1619)


Lucretia Oldham (1600-1679)
Patience Brewster (1600-1634)
1590 Scrooby, Nottinghamshire, England
12 December 1634 Plymouth Colony, Plymouth, Plymouth County, Massachusetts
Thomas Prence (1600-1673)
Fear Brewster (1606-1634)
1606 Scrooby, Nottinghamshire, England, United Kingdom
1634 Plymouth, Plymouth County, Massachusetts
Isaac Allerton (1586-1658)
Unnamed Son Brewster (1609-1609)
1609 Leiden, Zuid-Holland, Netherlands
1609 Leiden, Zuid-Holland, Netherlands
Love Brewster (1611-1650)
15 May 1611 Leiden, Zuid-Holland, Netherlands
6 October 1650 Duxbury, Plymouth County, Massachusetts, United States
Sarah Collier (1613-1691)
Wrestling Brewster (1614-1627)
1614 Leiden, Zuid-Holland, Netherlands
1627 Plymouth, Plymouth County, Massachusetts, United States
Siblings
References
Vital Records
Pilgrim Monument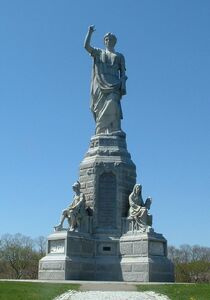 National Monument to the Forefathers, commemorates the Mayflower Pilgrims, (including this person) who came to Plymouth Colony in 1620 on the Mayflower. Dedicated on August 1, 1889, it is thought to be the world's largest solid granite monument. Located on an 11 acre hilltop site on Allerton Street in
Residences
References
General
Separatists

Other Passengers
Native American associates
Monuments
Records
History
Footnotes (including sources)