We're Getting Mutants in the MCU - The Loop
Play Sound
Biography
Mary Minerva Snow Gates was born 30 July 1813 in Saint Johnsberry, Caledonia County, Vermont, United States to Levi Snow (1782-1841) and Lucina Streeter (1785-1858) and died 9 February 1891 St. George, Washington County, Utah, United States of unspecified causes. She married Jacob Gates (1811-1892) 16 March 1833 in St. Johnsberry, Caledonia County, Vermont. William I of England (1027-1087), Hugh Capet (c940-996), Alfred the Great (849-899)/s, Charlemagne (747-814)/s, Hugh Capet (c940-996)/s, Rollo of Normandy (860-932)/s.
Jacob Gates (1811-1892) married Millie M. Snow, (Her name is given in another source as Mary Minerva Snow.) daughter of Levi Snow and Lucinia Streeter, March 16, 1833. Later in life he practiced plural marriage and fathered a total of thirteen children of record. He was baptized by Orson Whitley Pratt (1811-1881) June 18, 1833, and confirmed a member of The Church of Jesus Christ of Latter-day Saints the same day by Zerubbabel Snow.
Zions Camp Participant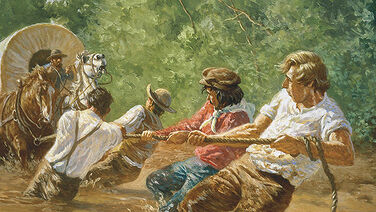 One of the most interesting episodes in the early history of LDS Church was the march of Zion's Camp (1834). The members of the Church in Missouri were being persecuted, and the Prophet Joseph made it a matter of prayer and received a revelation on February 24, 1834. The Lord instructed the Prophet to assemble at least one hundred young and middle-aged men and to go to the land of Zion, or Missouri. (See D&C 130:19–34.)
Zion's Camp, a group of approximately one hundred and fifty men, gathered at Kirtland, Ohio, in the spring of 1834 and marched to Jackson County, Missouri. By the time they reached Missouri, the camp had increased to approximately two hundred men.
Jacob marched in Zions Camp with his new bride, Mary Minerva Snow (1813-1891) and several of her Snow Family relatives. April 11, 1834, with his young wife, he left his father's house for Missouri, where he arrived June 30, 1834, and located seven miles west of Liberty, Clay County, Missouri which was quite a small village at that time.
This person was is listed on the Encampment Mall Memorial - a list of over 300 LDS Pioneer Families that helped to settle St. George, Utah in 1861. They were part of the "Dixie Cotton Mission" called by President Brigham Young to raise cotton and other southern crops in the warmer climate of Washington County, Utah.
Siblings
Offspring of Levi Snow (1782-1841) and Lucina Streeter (1785-1858)

Name
Birth
Death
Joined with

Levi Mason Snow (1803-1869)

Lucina Snow (1805-1861)

William Snow (1806-1879)
14 December 1806 St. Johnsbury, Caledonia County, Vermont, United States
19 May 1879 Pine Valley, Washington County, Utah, United States

Hannah Miles (1810-1841)




Lydia Leavitt (1823-1847)


Sally Adams (1825-1904)


Jane Maria Shearer (1819-1910)




Roxanna Leavitt (1818-1881)


Ann Rogers (1834-1928)
Zerubbabel Levi Snow (1809-1888)
29 March 1809

Saint Johnsberry

, Caledonia County, Vermont, United States
27 September 1888 Salt Lake City, Salt Lake County, Utah, United States
Susan Salter Lang (1810-1841)


Mary Augusta Hawkins (1823-1888)




Mary Lavina Stone (1813-1899)

Willard Trowbridge Snow (1811-1853)
6 May 1811

Saint Johnsberry

, Caledonia County, Vermont, United States
21 August 1853

At Sea

, Atlantic Ocean
Melvina Harvey (1811-1882)
Susan Harvey (1808-1849)
Mary Bingham (1820-1893)
Mary Minerva Snow (1813-1891)
30 July 1813

Saint Johnsberry

, Caledonia County, Vermont, United States
9 February 1891 St. George, Washington County, Utah, United States
Jacob Gates (1811-1892)

Shipley Wilson Snow (1816-1907)

Erastus Snow (1818-1888)
9 November 1818 Saint Johnsbury, Vermont, United States
27 May 1888 Salt Lake City, Utah, United States
Elizabeth Rebecca Ashby (1831-1915)
Artemesia Beman (1819-1882)
Minerva White (1822-1896)
Julia Josephine Spencer (1837-1909)

Charles Van Renssaeler Snow (1821-1879)

Lydia Mason Snow (1823-1900)

Melissa Diantha Snow (1826-1903)
References
Vital Records
St George Cemetery Gravestone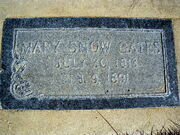 Residences
Footnotes (including sources)