We're Getting Mutants in the MCU - The Loop
Play Sound
Meñli I Giray was born 1445 to Haci I Giray and died 1515 of unspecified causes.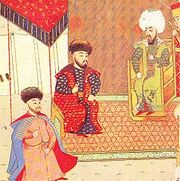 Meñli I Giray (Template:Lang-crh3) (1445–1515), also spelled as Mengli I Giray, was a khan of the Crimean Khanate (1466, 1469–1475, 1478–1515) and the sixth son of the khanate founder Haci I Giray.
He ascended the throne in 1466 for some months, then was deposed by his brother Nur Devlet. He was restored to the throne in January 1469, but lost power again in March 1475 as a result of a rebellion of rival brothers and nobility. In 1475, he was captured by the Ottomans in Caffa and delivered to Istanbul. After being forced to recognize Ottoman suzerainty over the Crimean Khanate, he was returned to the throne of Crimea in 1478. He made a great contribution to the development of Crimean Tatar statehood. He founded the fortress of Özü. In 1502, Meñli I defeated the last khan of the Golden Horde and took control over its capital Saray. He proclaimed himself Khagan (Emperor), claiming to be the successor of the Golden Horde's authority over the Turkic khanates of Caspian-Volga region.
Meñli I Giray was buried in the Dürbe (mausoleum) of Salaçıq in Bakhchisaray. In that city, he commissioned Zıncırlı medrese in Salaçıq (1500), Dürbe of Haci I Giray in Salaçıq (1501), and Demir Qapı portal in the Bakhchisaray Palace (by Aloisio the New) (1503).
See also
Preceded by


Nur Devlet

Khan of Crimea


1467
Succeeded by


Nur Devlet

Preceded by


Nur Devlet

Khan of Crimea


1469–1475
Succeeded by


Nur Devlet

Preceded by
n/a

Khan of Crimea


1478–1515
Succeeded by


Mehmed I Giray

Template:Khans of Crimea
See also
List of Crimean khans

Giray dynasty

Crimean Tatars

Crimean Khanate

Bakhchisaray
External links
Residences
Footnotes (including sources)