Articles, images

Archaeology

 •

Landmarks

 •

Migrations and settlements

 •

Photo gallery

 •

Prehistory

 •

Timeline

People

Births

 •

Deaths

 •

Baptisms

 •

Marriages

 •

Divorces

 •

Burials

 •

Families

 •

Residents

Daily life

Before 1401

 •

1401-1450

 •

1451-1500

 •

1501-1550

 •

1551-1600

 •

1601-1650

 •

1651-1700

 •

1701-1750

 •

1751-1800

 •

1801-1850

 •

1851-1900

 •

1901-1950

 •

1951-2000

 •

2001-present

Research,
including
queries

Mehsana district links

 •

Birth records

 •

Businesses

 •

Cemeteries

 •

Census data

 •

Church records

 •

Court records

 •

Death records

 •

Directories

 •

Landowner records

 •

Marriage records

 •

Maps

 •

Military records

 •

Obituaries

 •

Probate records

 •

Queries
This article is about the district. For its eponymous headquarters, see
Mehsana
.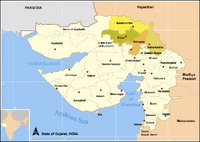 Mehsana district (Gujarati: મહેસાણા જિલ્લો) is one of the 26 districts of Gujarat state in western India. Mehsana city is the administrative headquarters of this district. The district has a population of over 18 lakhs and an area of over 4,500 km². There are over 600 villages in this district. It had a population of 1,837,892 of which 22.40% were urban as of 2001.[1]
Mehsana district borders with Banaskantha district in the North, Patan and Surendranagar districts in West, Gandhinagar and Ahmedabad districts in South and Sabarkantha district in the East.
Major towns of the district are Vijapur, Bahucharaji, Modhera, Unjha, Vadnagar, Kalol, Kadi, Visnagar, Kherva(Gujarati: ખેરવા), Jotana and Khadalpur, Sanganpur ( સાંગણપુર ).
Motor vehicles registered in the district have their registration numbers starting with GJ-2.
History
[
]
Historically parts of this district have been broken off for the formation of new districts.
1964 to Gandhinagar district.
2000 to Patan district.
Divisions
[
]
Mehsana district consists 9 talukas. These are Becharaji, Kadi, Kheralu, Mahesana, Vadnagar, Vijapur, Visnagar, Satlasana and Unjha.
There are 7 Vidhan Sabha constituencies in this district: Kheralu, Unjha, Visnagar, Becharaji, Kadi, Mahesana and Vijapur. Kheralu is part of Patan Lok Sabha constituency and rest are part of Mahesana Lok Sabha constituency.
Economy
[
]
Agriculture
[
]
The main crops are Bajra, jowar, jira, cotton and oilseeds mirch.
Commerce
[
]
The major trading centres in the district are oilseeds, jira (cumin), isabgul (psyllium) and anise.
Mehsana district is the largest on-shore oil producing asset of ONGC in India, with 1,200 flowing oil wells and 23 active gas wells.
Asia's second largest dairy 'Dudh Sagar' is situated in Mehsana.
Demographics
[
]
According to the 2011 census Mehsana district has a population of 2,027,727,[2] roughly equal to the nation of Slovenia[3] or the US state of New Mexico.[4] This gives it a ranking of 229th in India (out of a total of 640).[2] The district has a population density of 462 inhabitants per square kilometre (1,200 /sq mi) .[2] Its population growth rate over the decade 2001-2011 was 9.91 %.[2] Mahesana has a sex ratio of 925 females for every 1000 males,[2] and a literacy rate of 84.26 %.[2]
References
[
]
External links
[
]
Banaskantha district
Patan district

Sabar Kantha district

     
Mehsana district
Surendranagar district
Ahmedabad district
Gandhinagar district
 State

of

Gujarat

Major corporations

Ahmedabad

Surat

Vadodara

Rajkot

Jamnagar

Bhavnagar

Junagadh

Navsari

Surendranagar

Udhana

Mehsana

Anand

Bharuch

Districts
Villages
Topics
Major projects of Gujarat

Ahmedabad BRTS

Gujarat International Finance Tec-City

Sabarmati Riverfront Development Project

Sardar Sarovar Project

GSWAN

Regions of Gujarat

Bhal region

Kathiawad region

Gujarat Region

Sorath Region

Gohilwad region

Zhalawad region

Charotar region

Ghed region
Coordinates: 23°40′N 72°30′E / 23.667, 72.5